Asian Traditional Archery Research Network (ATARN)
Text and photographs © Stephen Selby, 2001.
A1, Cloudridge,
30, Plunkett's Road,
The Peak, Hong Kong.
Fax: (852) 2808-2887
email: srselby@atarn.org
June 2001
Dear All,
If you have visited the ATARN website during the last month, you will see that I have tried to implement some technical up-grades. Occasionally they work.
Following the suggestions by the WWW10 Symposium Culture Track, I have tried to implement a machine translation function through 'Babelfish' to help ATARN readers. Here is what it looks like. If you try it, remember that you cannot see the Korean, Chinese or Japanese unless you have special fonts installed in your computer.
Click a language for machine translation

Some people love Babelfish and some people hate it. I believe that it can really help people who do not know enough English to understand the basic content of our pages. Unfortunately, Babelfish cannot correctly translate the technical vocabulary of archery. For example, see how the word '.quiver' (a thing for holding arrows) is translated into your language: 'quiver'. In this part of my letter, I am writing simple English with short sentences. This style should result in the best quality of machine translation.
There are commercial machine translation services available that will permit me to supply translations of technical vocabulary; but they are very expensive. I hope you will agree with me that we should start modestly and develop a more sophisticated translation service later on.
---
This month, I went to visit Ju Yuan Hao in Peking. The family is well and the bowyer's son is making rapid progress in mastering the craft. ATARN is continuing to support them and help revive an interest in traditional archery in China.
I have started to discuss with the Hong Kong Museum of Coastal Defence whether they would house a permanent archery display. This is potentially an exciting project as archery museums are few and far-between. Here are some that I know:
The Grayson Collection, Columbia, Missouri, USA

The Simon Archery Collection, Manchester, UK

Musée de l'Archerie, Crépy-en-Valois, Paris, France

The Royal Armoury, Leeds, UK

The Korean Military Academy Museum, Seoul, Korea.
I hope we can develop a self-contained museum exhibit in Hong Kong concentrating on the Asian bow-maker's and arrow-maker's craft, and displaying tools and techniques as well as finished bows and arrows from around Asia. Ju Yuan Hao has agreed to make reproductions of all his specialised tools for our display, and it would be great if we can show audio-visual displays of old techniques.
The old bowyer has a remarkable memory. When I went to see him, he gave me a drawing that he had made showing the lay-out of the whole of Peking's old bow-makers' quarter as it was at the end of the last century. He has labelled every shop and factory within the old enclosed quarter (long since demolished), and written the traditional Chinese name of each shop and the surname of each family who lived and worked there. I am preparing to reproduce his drawing in English and Chinese for ATARN's pages.
---
You may remember for a previous letter that I found a bronze model of a bow dating from the Liao Dynasty (907-1125CE).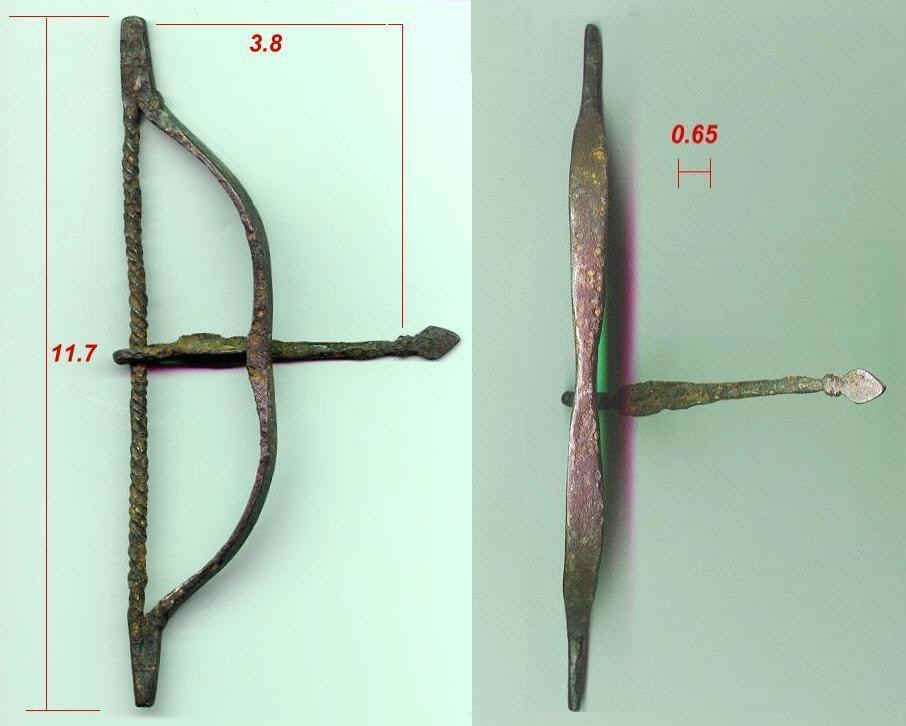 Liao period bronze detailed model of a bow with relative propostions
The Liao Kingdom was established in North China by a proto-Mongol people, the 'Khitan' (from whose name the English word 'Cathay' derives.) Actually, this bow design is very similar to the Tibeto-Mongol bows that I reported from Qinghai Province, Haixi Prefecture.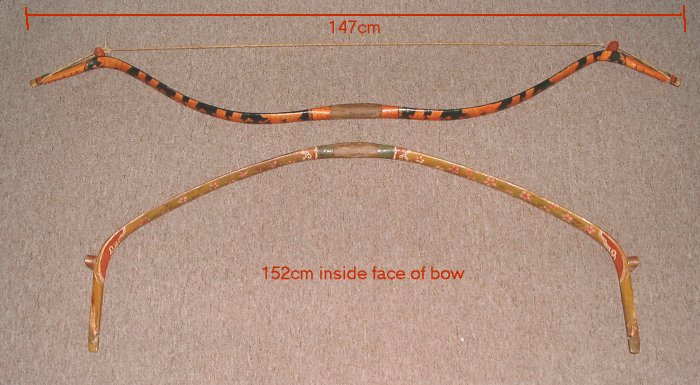 Tibeto-Mongol bows from Haixi Prefecture, Qinghai Province, China.
My latest acquisition in the Peking flea market is a small bone nock insert that is probably from the same period.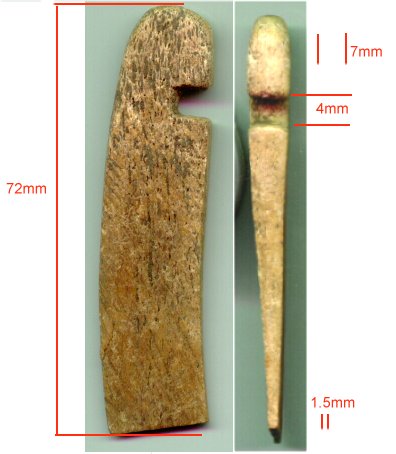 String nock insert from a Liao Khitan bow. 17mm across.
You can contrast this with the approach found in the putative Avar/Hun bows, where the string nock is supported by pairs of bone plates attached to the outsides of the siyahs. The 4mm gap of the string nock would not readily accept the twisted rawhide bowstrings that I have on bows from Qinghai, which are 5mm in diameter.
---
---