Asian Traditional Archery Research Network (ATARN)
A1, Cloudridge,
30, Plunkett's Road,
The Peak, Hong Kong.
Tel: (852) 2895-4488
Fax: (852) 2808-2887
email: srselby@atarn.org
April 29, 2001
Dear All,
Preliminary Announcement
"The Archery Culture of China"
A Two-day Symposium to be Held in Beijing China
This event has been re-scheduled for 16/17 May 2001

The Asian Traditional Archery Research Network has pleasure in announcing that we plan to co-organize a two-day symposium in Beijing, China, together with the Chinese Archery Association and the Yanhuang Chinese Culture Association.
The Symposium is scheduled to take place on 16-17 May, 2001 at the Fragrant Hills Hotel, Beijing.
No symposium of this sort has been held before. We hope to draw an audience of academic experts as well as practitioners and bowyers from around the world. Some of the special features planned for the symposium are:
The Fragrant Hills hotel is a resort hotel on the outskirts of Beijing providing comfortable, modern accommodation with both Chinese and western food. It is surrounded by pleasant woodland with excellent hill-walking.
The symposium location is close to facilities for indoor and outdoor archery practice and competition, including a luxurious, modern indoor range with club facilities. There will be a chance to try shooting with traditional bows, pellet bows and crossbows in Chinese, Mongolian styles other national styles.
We shall be able to provide a chance to see China's last remaining traditional bowyer at work. It will be possible to purchase traditional Chinese archery equipment (in limited quantities.)
We shall provide (at additional cost) sightseeing and tourism arrangements for participants.
Hotel accommodation (excluding food) for four nights will cost US$180 total for a twin room including breakfast. We hope to be able to negotiate a full-board package together with accommodation and some city/museum tours.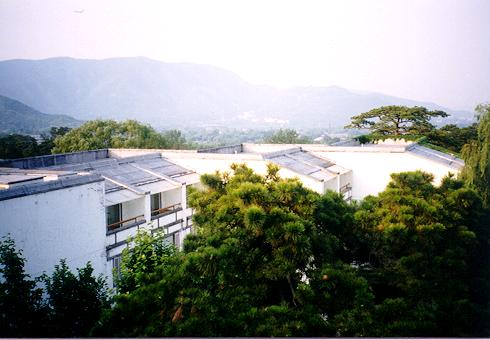 Fragrant Hills Hotel, Beijing, China
Potential participants should note that bowhunting will not be possible in China. Participants are, however, encouraged to bring their own modern or traditional archery equipment for target shooting. Loan/hire of equipment can be arranged but quality of such equipment is uncertain.
According to my initial enquiries, the cost of a return economy class air ticket between Los Angeles/San Francisco and Beijing is around US$1,000, with a small saving for fixed-date ticketing.
Tentative Details (subject to change)
Date: 16-17 May 2001
Place: Fragrant Hills Hotel, Beijing, China
Organizers: ATARN
Chinese Archery Association
Yanhuang Chinese Culture Association
Topic: The Archery Culture of China
Aim: A Symposium on the Archery Traditions of the Chinese Nationalities and its Place in Chinese History and Culture.
Participants: up to 100
Fee: US$100
Language: Chinese/English with interpretation
Contents:
An introduction to ancient Chinese culture
The archeology of Chinese archery
Archery symbolism in the ancient Chinese writing system.
The role of archery in ancient Chinese ritual
Archery in Chinese historical military theory and practice
The construction of the traditional Chinese bow
Traditional archery in Inner Mongolia
The theory of Qigong and its role in Chinese archery
Chinese philosophy: Taoism and Confucianism expressed through archery
Chinese arrows: their development and distribution
Archery in China since the establishment of the People's Republic of China.
Expressions of interest:
To help with planning, please let me know whether you would be interested in attending this unique event. Your expression of interest at this time is not binding, and no payment is asked for now.
Email:
srselby@atarn.org (please do not use the discussion forum bulletin board for contacting me to register your interest in this Symposium. But do use it if you need to ask for more information that might be of interest to other Members.)
Fax:
Hong Kong (852)-2808-2887
Post:
ATARN,
A1, Cloudridge,
30, Plunkett's Road,
The Peak,
Hong Kong
Yours faithfully,

(Signed)

(Stephen Selby)