Asian Traditional Archery Research Network (ATARN)
A1, Cloudridge,
30, Plunkett's Road,
The Peak, Hong Kong.
Tel: (852) 2895-4488
Fax: (852) 2808-2887
email: srselby@atarn.org
April 29, 2001
Dear All,
ATARN has grown nicely since we came online in September 1998. Since moving to a new server and coming online on 3 January 2000, we have served 3 668 separate host enquiries. My statistics service shows the following growth for downloads:

month: pages:
-------- -----
Jan 2000: 5867:
Feb 2000: 8462:
Mar 2000: 10555:

The discussion forum is proving useful, but we have a problem. I have implemented it with FrontPage 2000, and by common acclaim it is no more than just serviceable. I cannot edit it or even remove pages from the middle (at least, not without getting into the html source code.) To keep it intelligible, I plan to archive the correspondence month by month. So each month, the forum will be empty, but there will be links to pages with archived correspondence from the previous months.
For a payment of US$25 (including postage) members can have the whole of the ATARN site on a CD-ROM. It will include the currently-archived discussions, and will be in Adobe Acrobat .pdf format. To order one, please email me without sending money. I shall ask for money when the CD-ROM is ready to be sent.
---
My latest travels have been to Europe. In Paris, I came across Alain, an arrowhead collector. He has amassed a large collection of Asian arrowheads. Unfortunately he is not on the INTERNET, but I have his address if any Members need to get help with arrowheads from Europe or Asia. He also had an interesting group of fishing arrowheads from the Moi tribes of Vietnam. His photographs of the tribe showed them with crossbows of the South-east Asian type.
Another interesting find in the flea-markets was this photo of a group of Wedda tribesmen from Ceylon performing archery with self-bows in about 1890. (See also.) This photograph is out of copyright and you can copy it if you wish.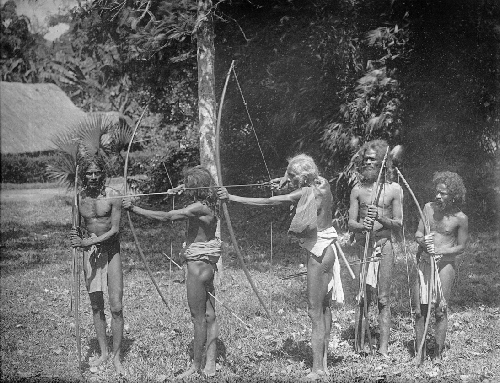 In case you can't see clearly, they appear to have large, leaf-shaped iron arrowheads and short, deep feather fletching (with bamboo leaf fletching in one case.)
---
Sincere thanks to Christer van der Bergh of Han Shan Tang books for donating a rare monograph, 'Archaeological Evidence of Chinese Contacts with India During the Han Dynasty' by Prof. Dr. Schuyler van R. Cammann. ('Sinologica' Review of Chinese Culture and Science, Law and Social Press, Basel, 1957.) It discusses a Han bronze crossbow mechanism excavated in the ruins of Taxila. (My only concern with the article is that it illustrates a bronze crossbow latch (sear) that I have never seen on a Han mechanism, but I have seen on Tang mechanisms.)
Another interesting article I have recently read is 'Arrow Release Distributions' by A. L. Kroeber, (Univ. of California Publications in American Archaeology and Ethnology, Vol. 23 No. 4 pp. 283-296. University of California Berkley, 1927.) The article is interesting for its typology of release methods; but fails to take note of whether some forms of release are dictated by the shortness of the bow (Mongolian release to avoid pinch by the string) or horseback archery (arrow outside the bow to facilitate single-handed grip on bow/arrow with arrow nocked.)
I have obtained an original copy of Payne Gallwey's tome on the crossbow and I shall scan and upload his sections on the Chinese repeating crossbow and on the Turkish flight bow, once I have established that copyright on the original edition has expired. (Please write to me if you know the year of Payne Gallwey's death.)
---
One final point. Just two people wrote to express an interest in coming to the symposium in Peking in October. If you are interested in coming but forgot to tell me, please let me know.
I'll write copiously on my return from Chengdu at the end of April.
Yours faithfully,

(Signed)

(Stephen Selby)