Asian Traditional Archery Research Network (ATARN)
A1, Cloudridge,
30, Plunkett's Road,
The Peak, Hong Kong.
Tel: (852) 2895-4488
Fax: (852) 2808-2887
email: srselby@atarn.org
September 2000
Dear All,
Letter from Fort Dodge
Photographs and text © Stephen Selby, 2000. All rights reserved
I've just got back from the International Horse Archery Festival and I know many of you will want to know what went on.
As far as I know, Hungary, the Sioux nation, Japan, France, Mongolia and white Americans have never come together before to study the ancient tradition of horseback archery. So the Fort Dodge event was probably a world first and it is certainly something that deserves to continue in the future.
Fort Dodge, a farming community in Iowa in the US Mid-west, was in some ways an unlikely venue for such a mixed bag of archers. But what Fort Dodge offered was a community that happily joined together to back this unusual event. For this to happen was the fruit of an enormous effort on the part of Meg and Dave Beshey and their helpers. In addition, many aspects of the arrangements had been put together over more than a year by Kaye and Jaap Koppedreyer ('Yumi'.)
In fact, Fort Dodge was about much more than just horseback archery. There were lectures on different archery traditions (Mongolian, Chinese and Japanese) demonstrations on stringing and adjusting horn bows, story-telling, discussions on bamboo and sinew for bow-making, a display of historical Asian bows, and an exhibition/sale of modern reproductions of Asiatic and native American bows.
Apart from these events, there was a ceremony by Shibata Sensei of Sharei (Ritual Archery) to the four cardinal points, and a daily parade of horseback archers (and hangers-on like me) in national costume.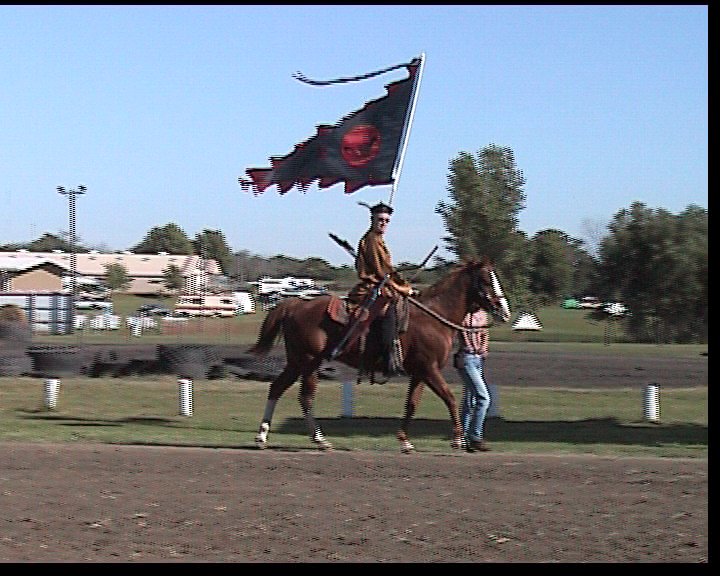 The Author in the dress of the Qing Manchu Imperial Guard
Between 7 and 11 September, Fort Dodge offered many contrasts: the peace of the Japanese archery ritual, the excitement of the horseback archery, the concentrated hard work of Kassai's horseback archery classes and the relaxed good-humour of Native American cornstalk shoots.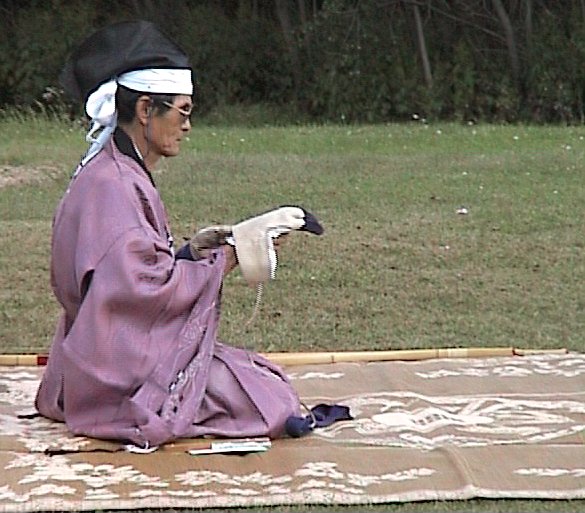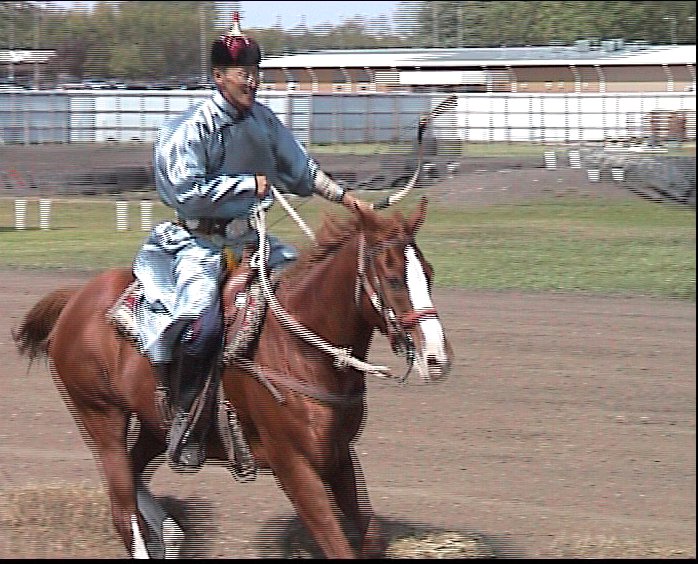 A study in contrasts: Shibata Sensei's calm preparation for the Archery Ritual, and Enkhbaatar reining in his excited horse after shooting.
Although the horseback archery provided enough spills and thrills for the crowds, you have to understand that the revival of this ancient sport is in its infancy. Some on-lookers were disappointed by the quality of the horseback shooting - barely more than one or two archers were competent at it, and the event did not have the sort of polish people have come to expect from televised sporting events. Kassai Lajos of Hungary has been the leading proponent in recent years and he can rightly claim the applause of the crowds for achieving six hits on the target at a canter. The sport needs discipline and dedication: it is one of the most challenging of horseback activities. It is less difficult in terms of hitting the target, which is quite close. The tricky bit - which many participants never really grasped - is nocking an arrow blind on horseback. We never saw Kassai practicing aiming or horsemanship, but as soon as he had a bow an arrow in his hands, he was practicing blind nocking constantly, like a magician preparing a deck of cards for a card-sharping trick.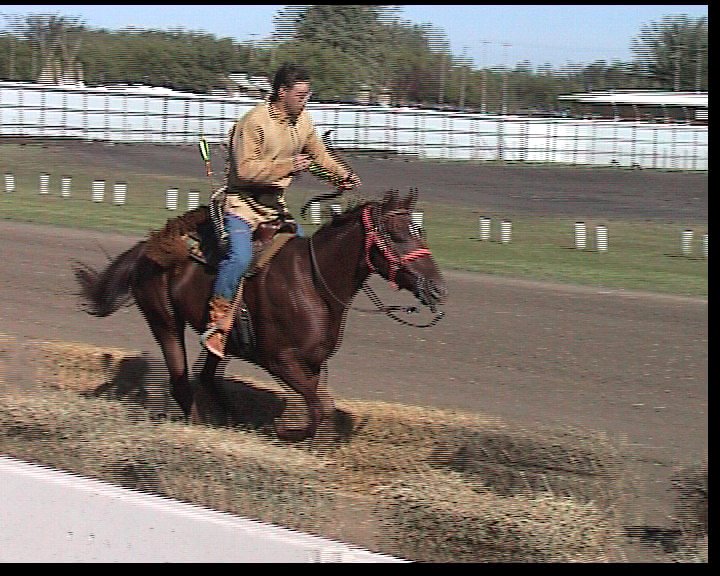 Blind nocking of the arrow on horseback was the greatest challenge to participants -
however good their horsemanship or shooting skills.
Kassai explained the basis of his horseback archery skill: he is unconscious of the horse, of the arrow, of the bow and the on-lookers. He has practiced to the point that he concentrates only on the target.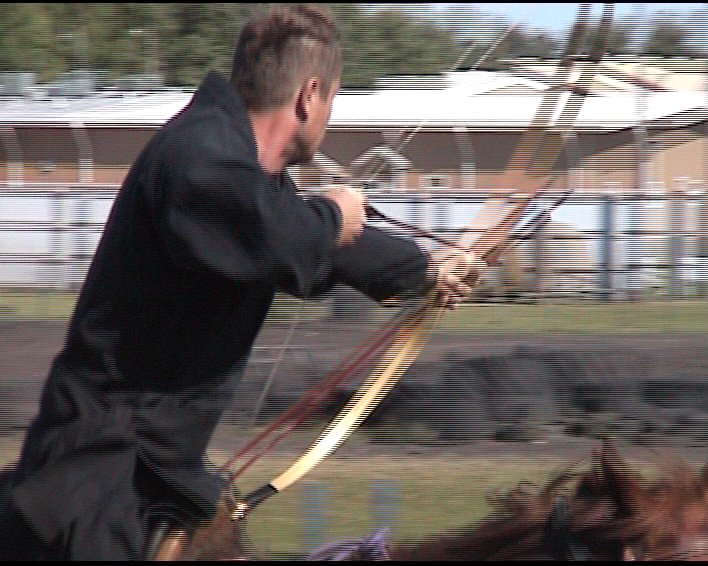 Kassai has perfected his skills to the point that he can ignore everything except the target.
Kassai was generous in his acceptance of trainees. I had not anticipated taking part because I had never ridden before, and also because I am left-handed (an almost insurmountable challenge when you are training on a horseback shooting range set up for right-handers.) Nevertheless, Kassai offered to take on anyone - even me - and said that in his experience some of those who knew least when they came to him turned into the most apt pupils. Although he only accepts experienced riders to his training camp in Hungary, he will accept people at all levels to his camps in the USA and Western Europe. However, once he accepts you as his pupil, you must be prepared to submit to a rigorous educational routine involving six hours' training sessions followed by care of your horse and mucking out.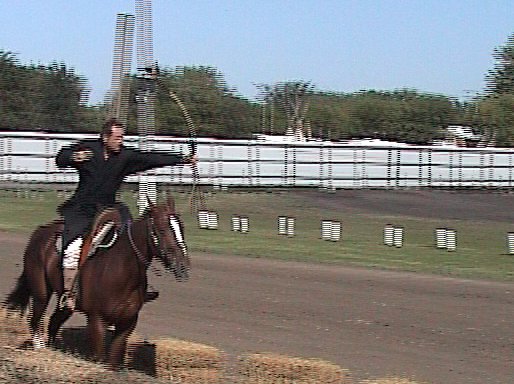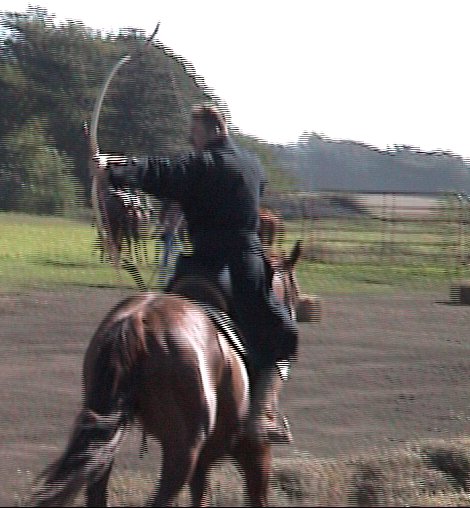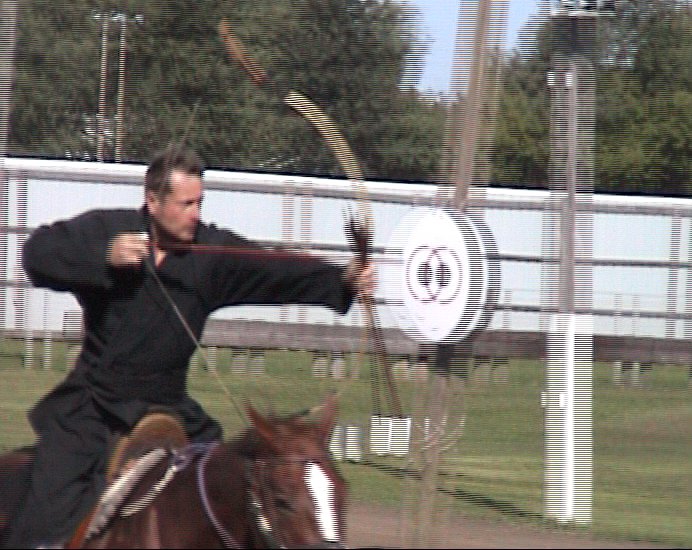 Kassai Lajos displaying his skills at Fort Dodge
While I take my hat off to Kassai and his indomitable spirit, discipline and craftsmanship, I admit to a sneaking admiration for the horseback shooting style of Summer Medicine Bull of the Sioux nation. Her riding was fluid and confident in contrast to the discipline and rigidity of Kassai's style. She has a natural talent and flexibility which, I suspect, will make her superior to Kassai when she has had a chance to practice for a few more years.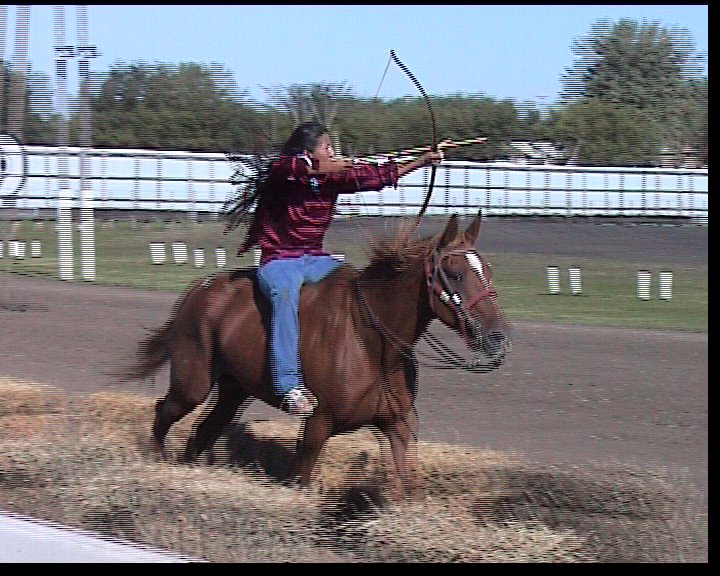 Summer Medicine Bull Riding fluidly and with supreme ease.
Is this the more sustainable face of horseback archery?
The Mongolian archers, Enkhbaatar and Munkhtsetseg (husband and wife) delighted everyone with their easy and generous manner and their stunning Mongolian national address. Less at ease on large western horses than on their own steppe ponies back home, they still managed to display skills that they have only started to practice this year. Mongolians have not been keeping up their horseback archery skills, preferring to concentrate on shooting on foot - one of the Mongolian national sports. But both archers made a good showing and have pledged to develop their skills when they return home.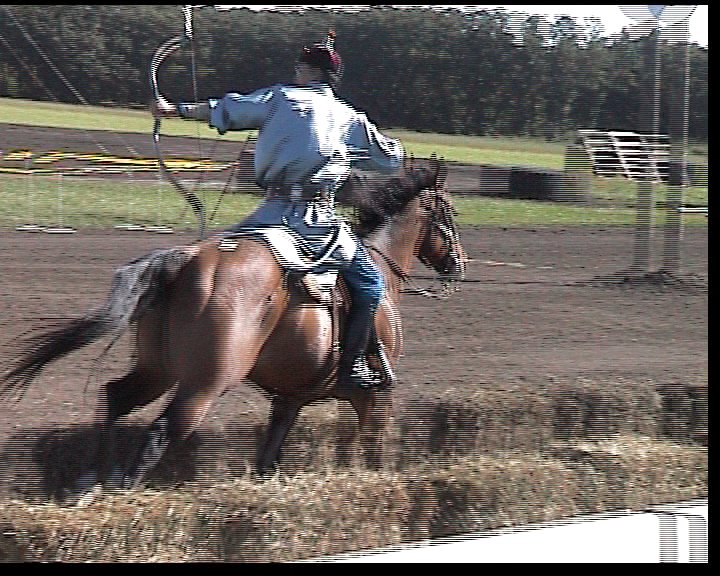 Enkhbaatar from Mongolia demonstrating the 'Parthian Shot' at full gallop
Fort Dodge is an event still developing its identity. It is likely to be repeated in September 2001, but with a more disciplined approach to the horseback archery training, which may develop into an isolated activity that the public can watch if they are interested. But the other cultural aspects of international traditional archery will, I hope, still continue to have their place. The event at Fort Dodge was not sustained by the horseback archery alone: it was a unique insight into the spirit of traditional archery as seen through the eyes of Europeans, Asians and Native Americans. Come and joint next year, and help build this event into a premier item on the annual archery calendar.