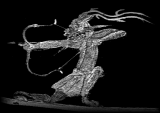 Asian Traditional Archery Research Network (ATARN)
Photographs/Illustrations © Fulvio Cinquini, Cherrie Button, FirstPlace Advertising, Hong Kong, 2003.
A1, Cloudridge,
30, Plunkett's Road,
The Peak, Hong Kong.
Fax: (852) 2808-2887
email: srselby@atarn.org
November 2003
Dear All,
This is one of those newsletters that is a particular pleasure to prepare, because most of the input comes from ATARN members and not from me.
---
Born in 1955 in Milan, Italy, Fulvio Cinquini has been travelling the world of the horse since his twenties. Expert rider and photographer, Cinquini has ceaselessly explored the domains of the horse, its geography, its history, its styles of riding, its equipment and its people, not to mention its legends and its mysteries. He never ceases to record its beauties.

He has travelled in Tibet, Mongolia, the US, India and Lesotho and has mounted exhibitions of his photographs in Houston Texas, Washington DC, Tokyo, Hong Kong and Moscow.

I met Fulvio at his exhibition in Hong Kong, sponsored by the fashion house Hermès of Paris. My children and I were enchanted by his work. I urged Fulvio to keep in touch and begged that if in his travels he encountered horseback archery, he should record what he saw for ATARN. He promised me that he would.

As good as his word, Fulvio contacted me a couple of months ago and asked to be introduced to the Korean Traditional Equestrian Martial Arts Association (K.E.M.A.). He went to photograph one of their performances in early October.

The Korean Traditional Equestrian Martial Arts Association (K.E.M.A.) has restored the skills of the former Military Service Examination of the Cho-sun period, which has not continued in modern times. They have revived swordsmanship, Gyuk-gu (Korean traditional Polo), Geobuksun ('turtle boat') Racing and 18 traditional martial arts, and re-enacted these skills following academic and historical studies.

K.E.M.A. aims to revive the Korean ancestors' enterprising spirit and traditional martial arts, in the hope that they can be handed down to the younger generation. One of K.E.M.A's activities is study of and training in horse riding martial arts, KI-SA (horse archery) archery skill on a horseback, which was a compulsory subject in recruiting military officers in the Chosun Dynasty.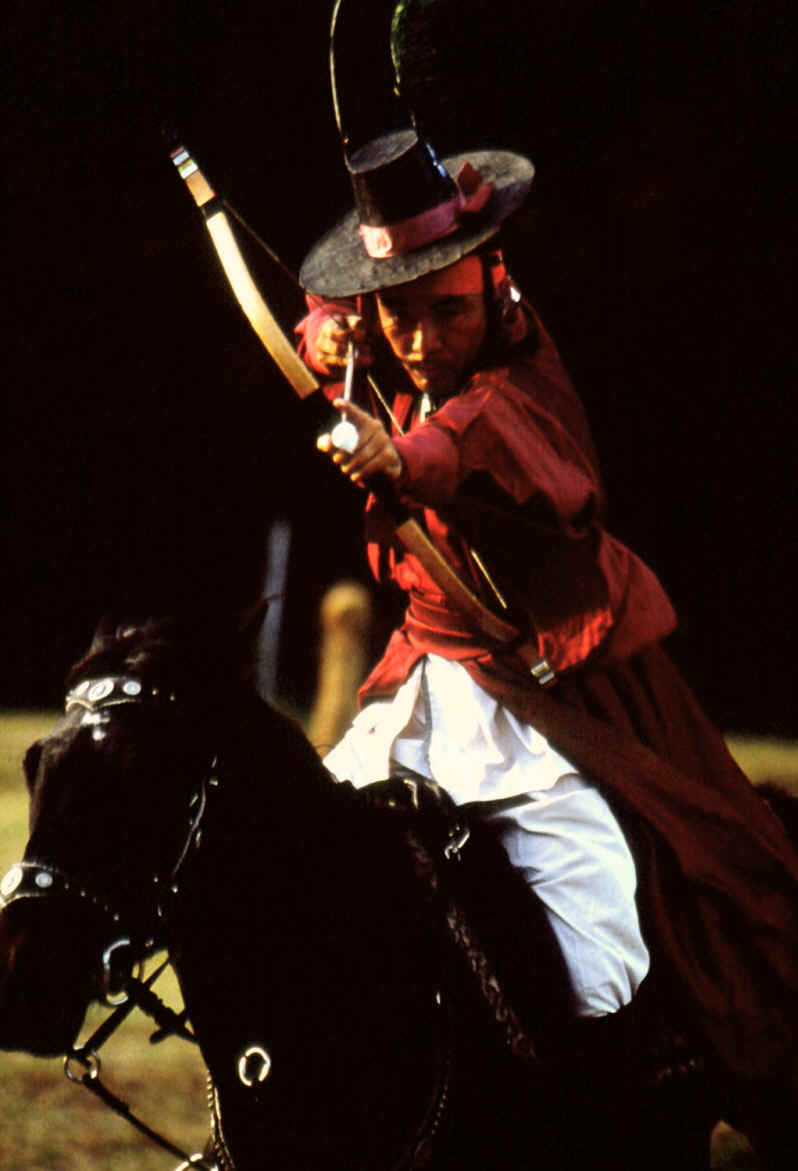 The forward shot. (Note that all these horseback archers use a western three-finger or two-finger release.)
© Fulvio Cinquini, 2003.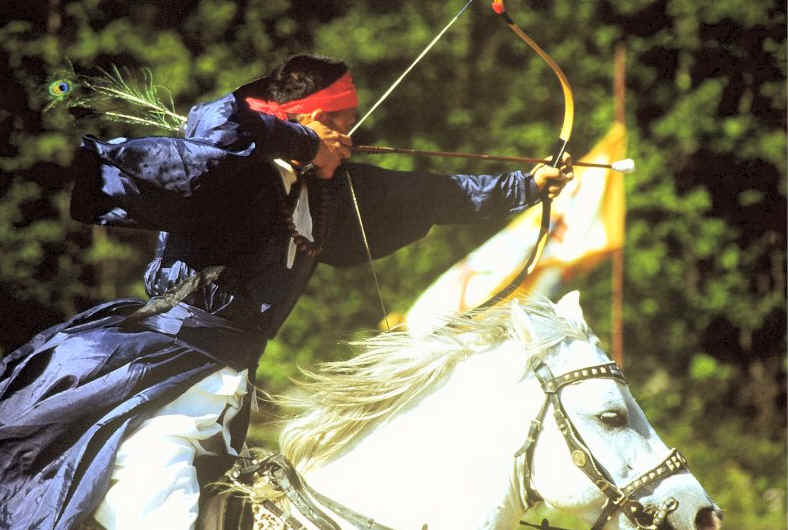 © Fulvio Cinquini, 2003.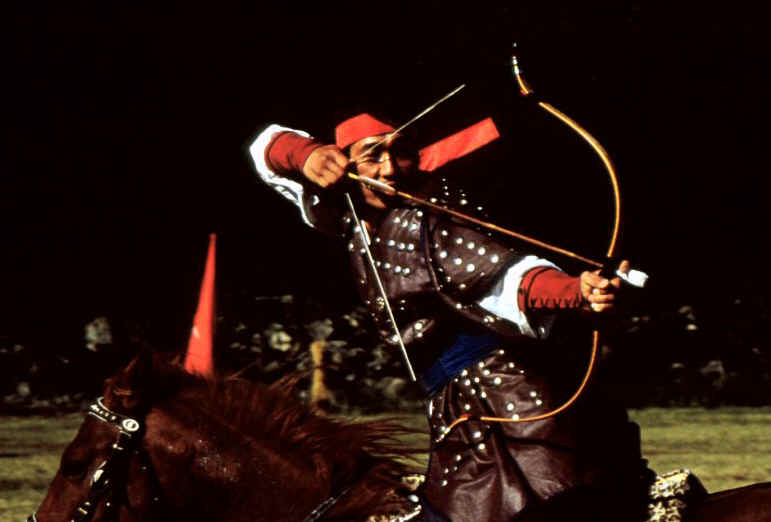 The backward shot.
© Fulvio Cinquini, 2003.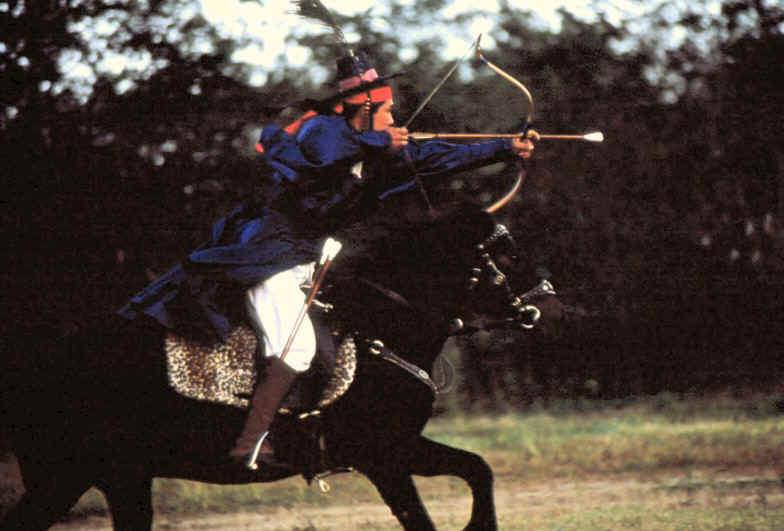 © Fulvio Cinquini, 2003.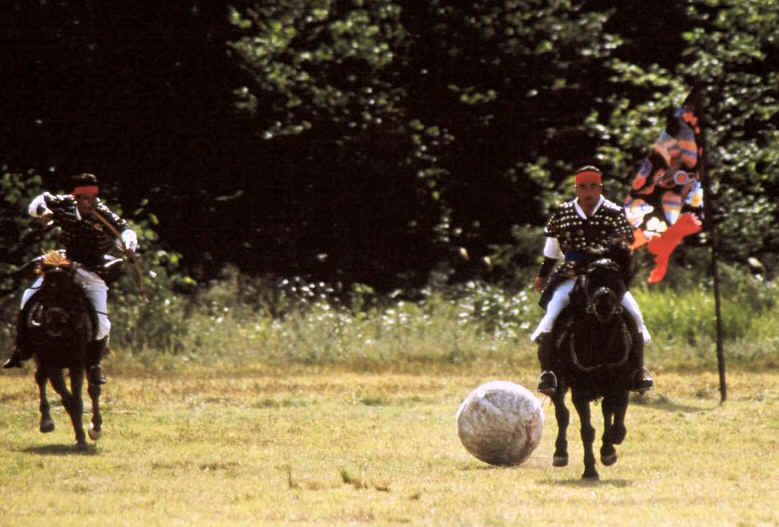 Chasing the Mo-gu ('fur ball') towed behind a pony.
© Fulvio Cinquini, 2003.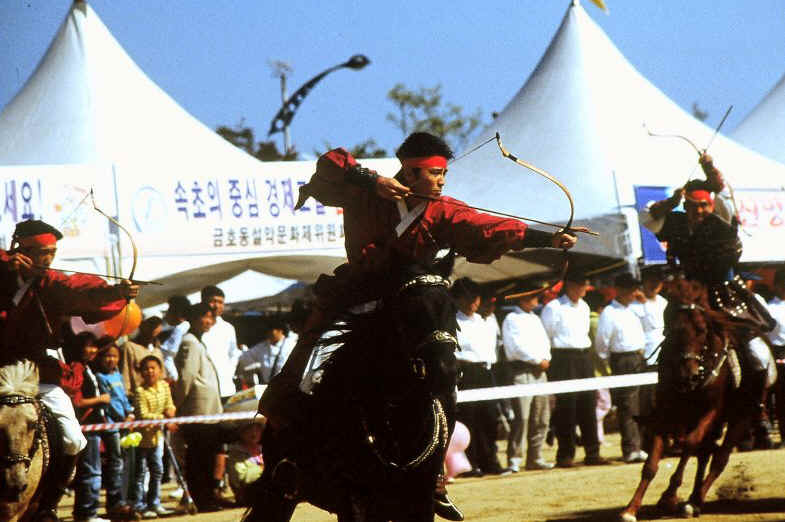 Full tilt chasing the Mo-gu ('fur ball')
© Fulvio Cinquini, 2003.
K.E.M.A. is developing a new practice and performance ground at Sokchu, a resort town on Korea's East Coast. There are a number of different types of competition. The simplest is a single target facing the runway half war down a 150-metre runway. In another, five targets are placed facing the runway at 30-metre intervals. This allows only about 2.5 seconds to re-load and shoot between the targets. In another competition, two targets are placed angled forward and backward halfway down a 150-metre runway.
Finally, there is the game of 'mo-gu', in which three archers chase a ball about one metre in diameter, towed behind a pony. Each archer is allowed three shots and must take one shot forward, one shot sideways and one backwards, all at not less than ten metres from the ball. They shoot using arrows with a soft blunt head dipped in coloured ink, so as to keep track of each archer's score.
Fulvio has just published a book, "Man and Horse: An Enduring Bond", (Pub. Chronicle Books, November 2003 ISBN: 2020593416, price about US$42.) I wish him every success with the book: if his exhibition was anything to judge from, it will be a stunning book! Thanks, Fulvio, for permitting ATARN to publish these photographs.
---
Cherrie Ann Button of Nottingham England is a former period clothing maker who has worked with museums and
tourist attractions across the UK. Unable to follow her calling due to an illness, she is planning to take up archery. She has kindly offered to share with ATARN Members her experience of period clothing and leathercraft in the form of
illustrations broken down into easy to follow patterns for Middle-Eastern quivers and bow-cases.
You may save the patterns and copy/enlarge them for the purpose of making the items for your personal use. They should not be used commercially without permission of the artist, Cherrie Ann Button.
---
Finally, as part of the promotion programme for the Hong Kong Asian Archery Festival, First Place Advertising, Hong Kong, made a short feature in which their presenter , 'Kawai', learns how to shoot a Chinese bow. Although the feature is in Chinese (Cantonese) only, you might get an idea of how to do the thumb draw by looking at it. Thanks to First Place Advertising for permission to web cast the feature.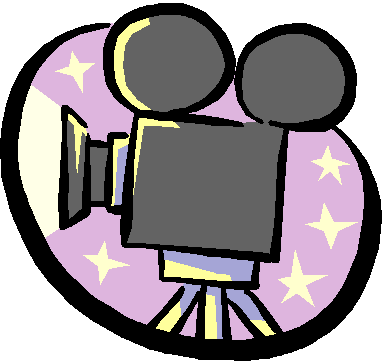 Windows Media Format streaming video.
And really finally, here is an album of additional photographs of the Asian Traditional Archery Carnival held on 26 October.
---
---