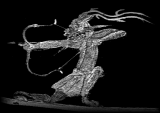 Asian Traditional Archery Research Network (ATARN)
Photographs © ATARN, 2003.
A1, Cloudridge,
30, Plunkett's Road,
The Peak, Hong Kong.
Fax: (852) 2808-2887
email: srselby@atarn.org
October 2003
Dear All,
ATARN's first international 'event' came to a successful end on Sunday, 26 October. That we could carry this off is due to the fantastic support and organization skills of the Leisure and Cultural Services Department of the Hong Kong SAR Government and its Museum of Coastal Defence. Secondly, we received generous support and sponsorship from Mrs. Barbara Park, Mrs. Kirsty Hamilton, Mr. George Magnus, Mr. Anthony Hardy, the Hong Kong First Bus Company, the Hong Kong Jockey Club, the Luk Chi Fu Martial Arts Association, and the Lo Wu Saddle Club.
Before the event, the Museum of Coastal Defence had set up a publicity programme with posters and advertising on in-bus television (yes, in Hong Kong we have a television service that just broadcasts to passengers in public busses!) They also put advertisements into leading local newspapers.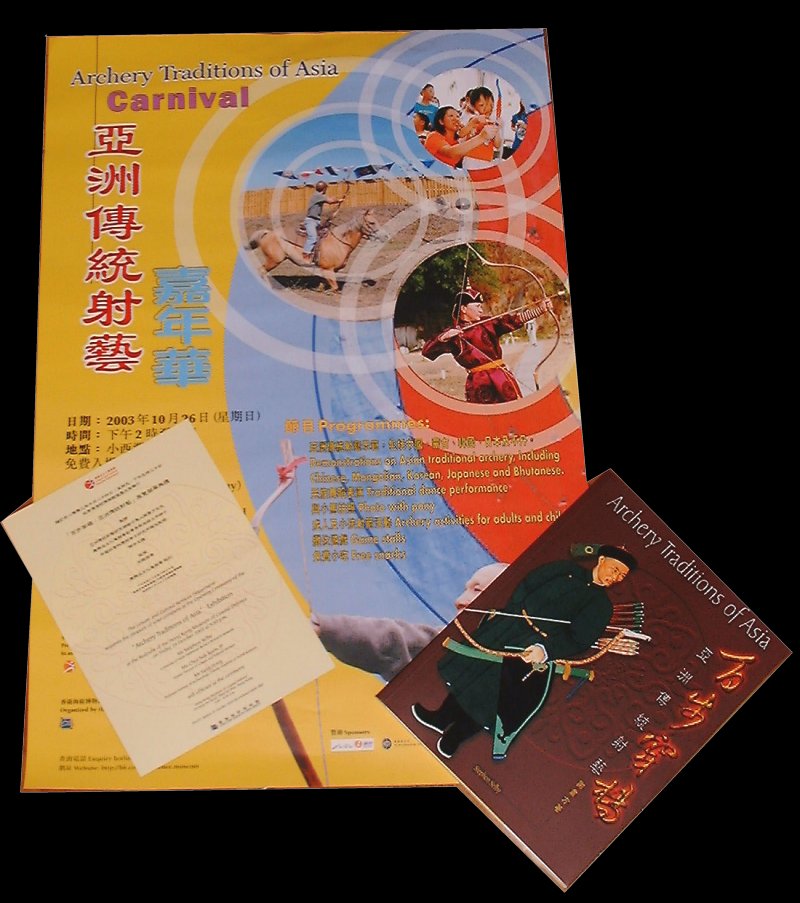 Publicity materials produced by the Hong Kong Museum of Coastal Defence -
Poster, invitation card and catalogue.
Apart from Hong Kong enthusiasts, we had leading followers of traditional archery from all around the world taking part. Many of them attended at their own expense. From the USA, we had Dr. Charles Grayson, Dennis Connor, Molly and Anne O'Donnell, from Australia, Bede Dwyer, From Bhutan, Tsewang Nidup, from Canada, Jaap and Kay Koppedrayer, from Korea, Prof. (Col.) Kim Ki-hoon, from the Philippines, Peter Cua, from Mainland China, Prof. Yang Hong, Mr Xu Kaicai, Mr Yang Wentong and Yang Fuxi (of Ju Yuan Hao), Yi Degang, Ms Qi Guihua, and six Tibetan archers from Qinghai Province, and from Mongolia, Ms Byambasuren and Mr Battumur. Mr. Turbileg of the Mongolian Consulate in Hong Kong offered his services as an interpreter.
Our first event in the Festival was the opening of the 'Archery Traditions of Asia' exhibition at the Museum of Coastal Defence. This exhibition is what has motivated the Museum to outreach to the Hong Kong public to raise awareness of traditional archery. Because guns and crossbows are strictly controlled in Hong Kong, archery is one of the few practical aspects of military skills in which Hong Kong people can participate. The Museum invited many guests associated with setting up the exhibition, as well as the local press. About 60 people attended the opening. Professor Yang Hong of the Dept. of Archaeology of the Chinese Academy of Social Sciences gave a keynote address.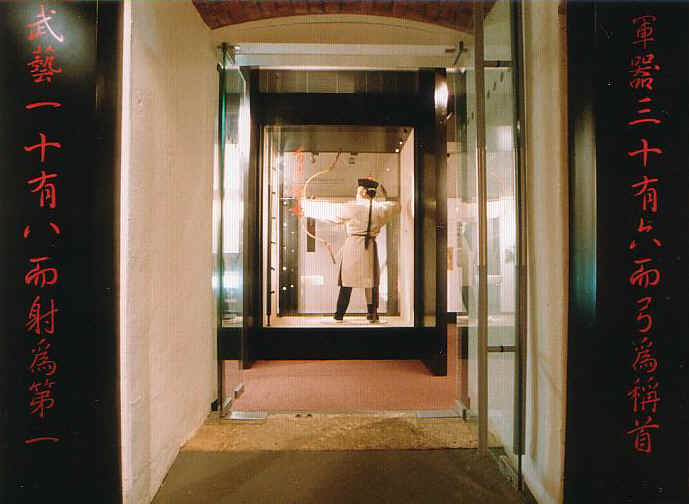 'Archery Traditions of Asia' exhibition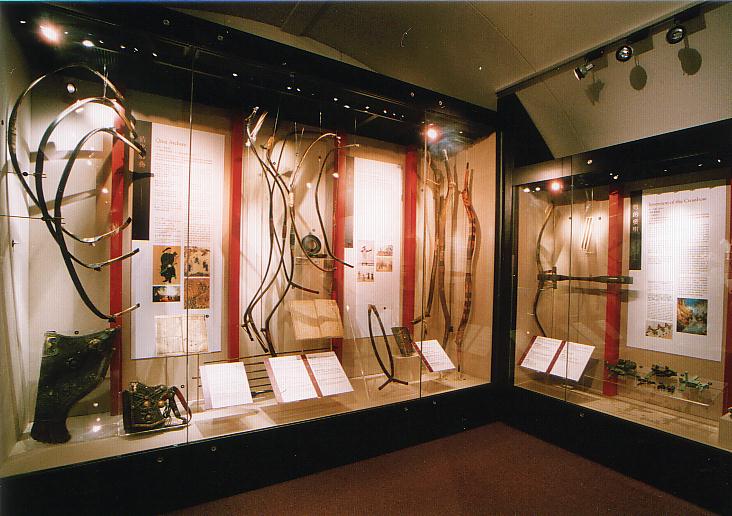 'Archery Traditions of Asia' exhibition: Qing bows.
On the second day, we held the 'Archery Traditions of Asia' seminar at the lecture theatre of the Museum of Coastal Defence. About 35 people attended, including archery enthusiasts and scholars of Asian fine arts.
| | | | |
| --- | --- | --- | --- |
| Speaker | Details of the speaker | Topic | Language |
| Prof Yang Hong | Professor, Chinese Academy of Social Sciences, Beijing | Ancient Chinese Archery and Archery Culture in Asia | Putonghua |
| Dr Charles Grayson | Renowned researcher on traditional archery; Founder of the 'Grayson Collection' at the University of Columbia, Missouri | Three Quarters of a Century in Traditional Archery: Comparisons and Contrasts | English |
| Mr Tsewang Nidup | Expert on Bhutanese Traditional Archery | The Archery Tradition of Bhutan | English |
| Prof (Col) Kim Ki-hoon | Professor (Colonel), Department of History, Korea Military Academy, Seoul | The Archery Tradition of Korea | English |
| Mr Bede Dwyer | Researcher and Writer on Asian Archery, Australian Correspondent of the Society of Archery Antiquaries | A Historical Perspective on Middle Eastern Traditional Archery | English |
| Mr Jaap Koppedrayer | Japanese and Asian bowmaker | The Japanese Bowmaker's Craft | English |
| Mr Yang Wentong | Bowmaker, Ju Yuan Hao, Beijing | The Chinese Bowmaker's Craft | Putonghua |
Due to the fact that we had simultaneous interpreters available, we were able to have a good interaction between Chinese and overseas participants. That is not to say that were not problems. I had to give our interpreters a crash course on traditional archery two days before the Seminar, and even then, there are serious problems of terminology between Chinese and Western traditional archery that could not easily be overcome. Given the variety of regional accents and the difficulty of the subject-matter, it was remarkable that our interpreters were able to provide such an outstanding service.
At this time, I have not yet got photographs or publishable papers from the seminar: but they will appear over the coming month. Prof. Yang Yong, Bede Dwyer and Prof. Kim Ki-hoon presented formal papers. Prof. Yang provided a survey of archery development in China from the archaeological perspective. He also introduced the main contexts in which archery has arisen in China - hunting, combat and ritual.
Dr. Charles Grayson shared with us his experiences in traditional archery since he started practicing as a boy (that was a very long time ago!) He introduced the personalities involved in raising interest in traditional archery and its equipment in the West, and showed slides of different traditional bows that had been made by western traditional archers.
Tsewang Nidup used a video recording of a traditional Bhutanese archery competition (using modern bows), providing his own detailed commentary on what was going on.
Col. Kim presented an excellent and detailed paper (that I shall publish shortly) providing a comprehensive historical and social survey of Korean traditional archery in its military, ritual and social contexts.
In an illustrated lecture, Bede Dwyer presented Middle Eastern archery, concentrating on the Mamluk Turks, their equipment and techniques.
The last two speakers provided an interesting change by doing practical presentations of bow-making skills. Jaap Koppedrayer's demonstration (using a small scale dummy bow) of how three strips of bamboo could be shaped into a Japanese yumi, just using a wound cord and wedges, made the audience's jaws drop. People rushed to the front of the theatre to get a close view of what was going on. No-one could have anticipated the simple and elegant solution to introducing a series of complex curves into three straight pieces of bamboo without damaging the valuable fibres of the skin of the bamboo by heating and stressing it.
The final presentation was from Master Yang Wentong of Ju Yuan Hao. He brought dummy Chinese bows at different stages of completion, to demonstrate how the materials were selected, cut and assembled. Master Yang was also mobbed by the audience (including one over-enthusiastic member who tried to draw the dummy bow - with predictable results!)
---
If the Seminar was intended to allow for academic and specialist discussion, the Carnival on 26 October was the opposite. It was a family event with games games stalls, pony rides, kids' archery singing and dancing in a fairground atmosphere. A free bus services was provided for visitors by Hong Kong First Bus Company; The Hong Kong Jockey Club sponsored the bussing in of the horse and ponies and the Lo Wu Saddle Club supported the hire of horses and supporting staff and equipment with a generous discount.
We estimate that 5,500 - 6,000 people attended the event, which was held in a modern sports stadium at Siu Sai Wan on Hong Kong Island. One popular activity was kids' archery. The arrows had rubber tips and the target was a big Chinese brass gong. The Leisure and Cultural Services Department waived rental for the location. Production of the event was led by Maggie Pang.
ATARN had a stall (kindly manned by Bede Dwyer, Kay Koppedrayer, Joe Lam and Kit Lam Hing-kit.) We displayed information about ATARN as well as other traditional archery associations such as IHAF and SPTA.
Here is a pictorial report. (Photograph credits to Amber Matthews, commissioned by ATARN as photographer for the event.)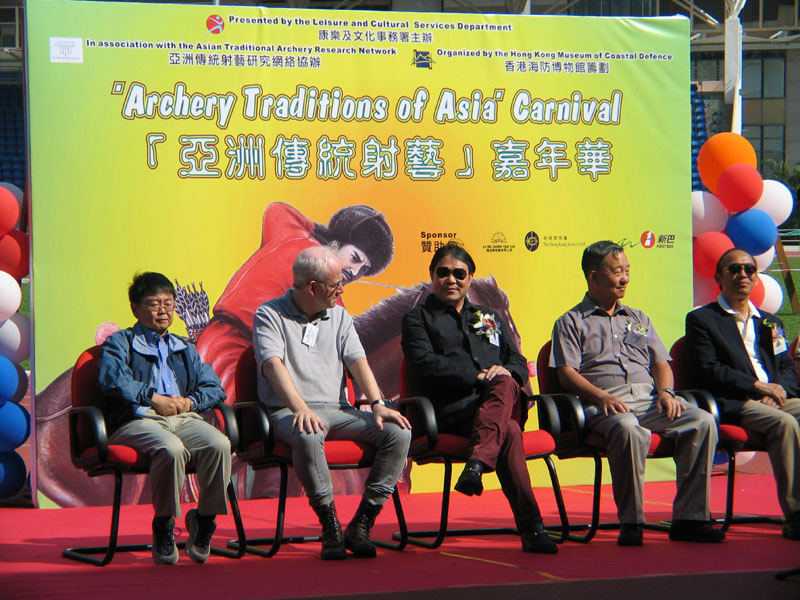 The opening ceremony: Dr. Joseph Ting, Chief Curator, Hong Kong Museum of History, Stephen Selby, Hon. Timothy Fok Chun-ting, Chairman of the Sports Federation and Olympic Committee of Hong Kong, China, Mr Yu Kam-ming, Chairman of the Hong Kong Archery Association and Mr. Johnny Woo Wai-man, Assistant Director, Leisure and Cultural Services Department.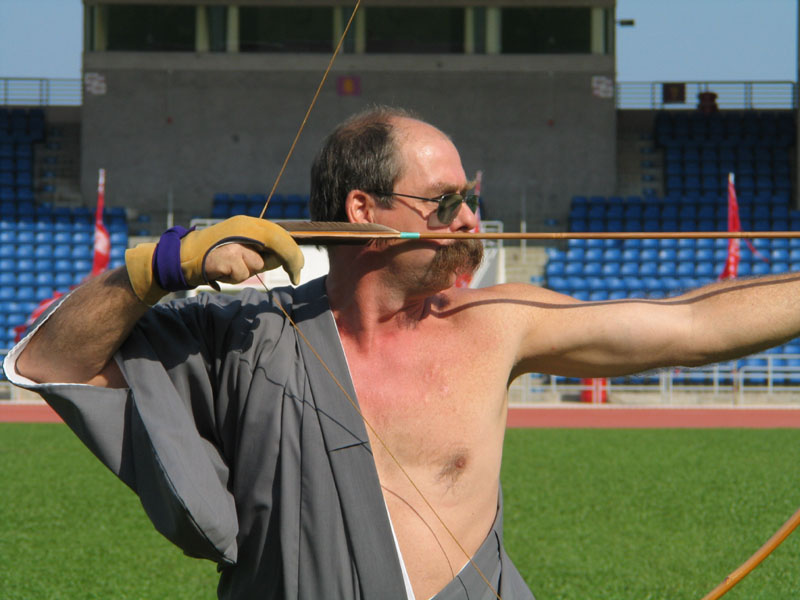 Jaap Koppedrayer coming to full draw in a demonstration of
Kyudo. Jaap also performed a Ritual Archery (raisha) shot and a shot into the air with a whistling arrow to bring good luck to the carnival.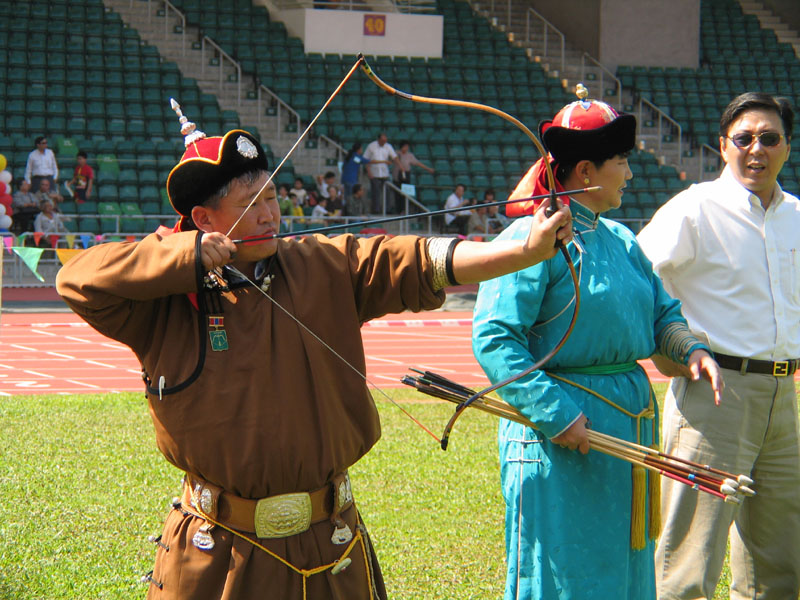 The Carnival was also an opportunity for cultural exchange. Battumur's first encounter with a Korean bow. Turbileg (right) offered his services as interpreter for the Mongolian delegation. Byambasuren (General Secretary of the Mongolian National Traditional Archery Association) is in the middle.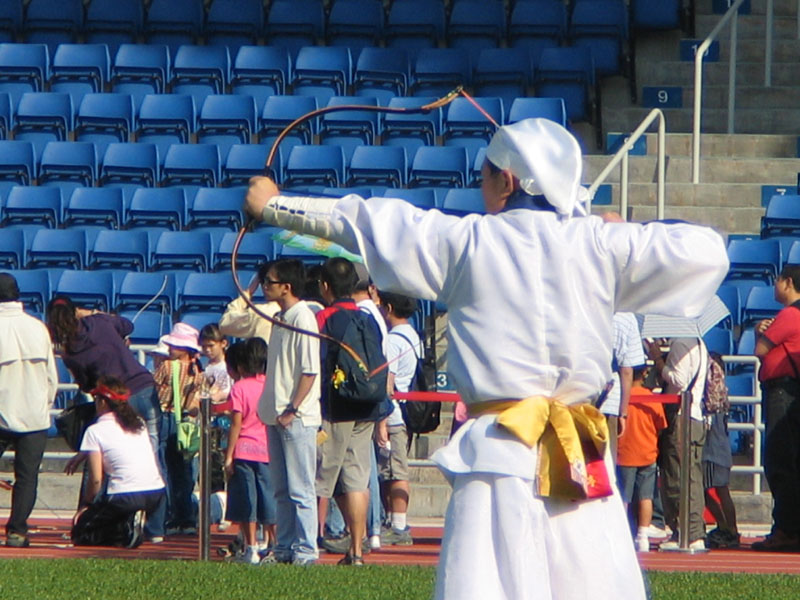 Col. Kim Ki-hoon demonstrating Korean traditional archery.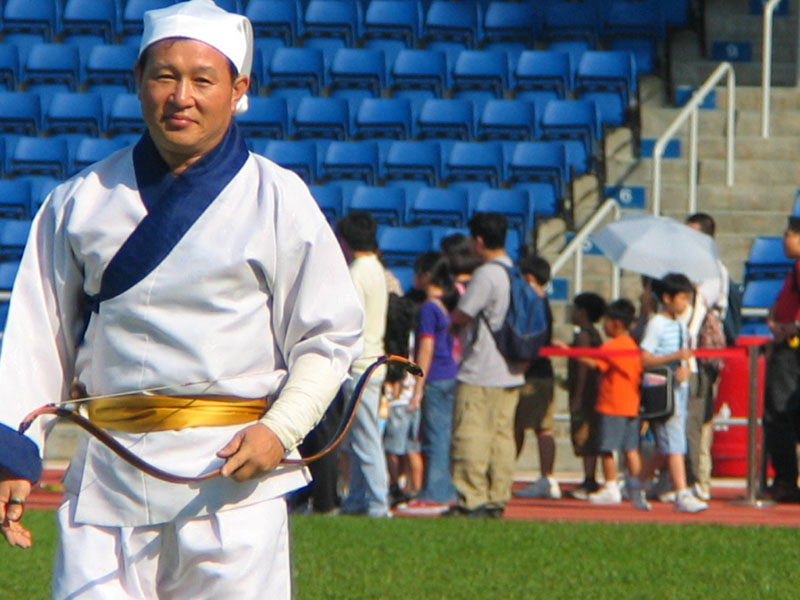 Col. Kim Ki-hoon after a successful demonstration.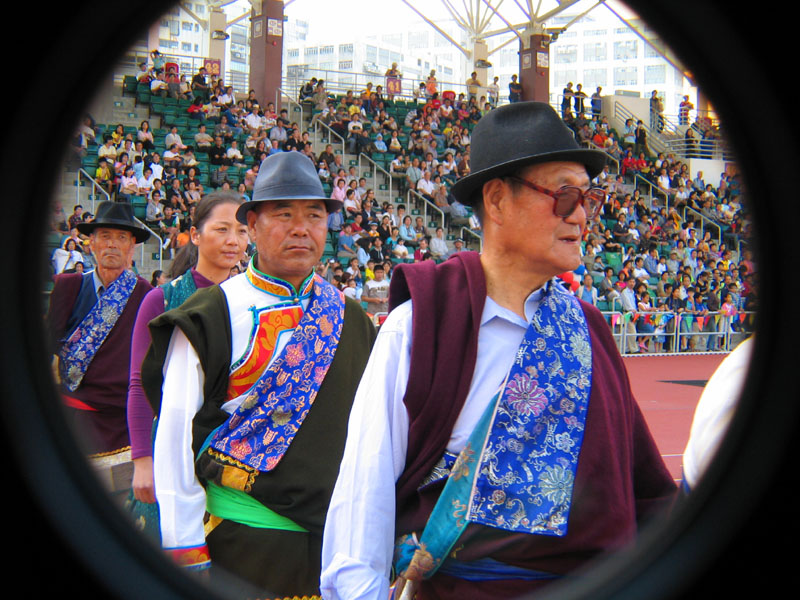 The colorful delegation of Tibetans from Qinghai wowed spectators with their archery, chanting and dancing. Ms Qi Guihua (Han Chinese Nationality) is a provincial archery coach.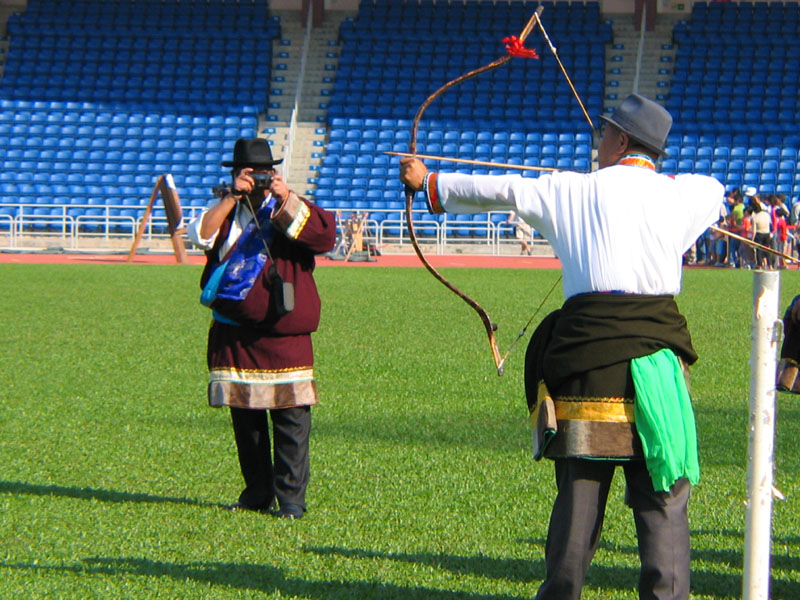 Tibetan archery in Hong Kong - a memorable event to record for the 'folks back home'.
(Half the stadium was crammed with spectators while the other half was sealed off to provide a safe area behind the targets.)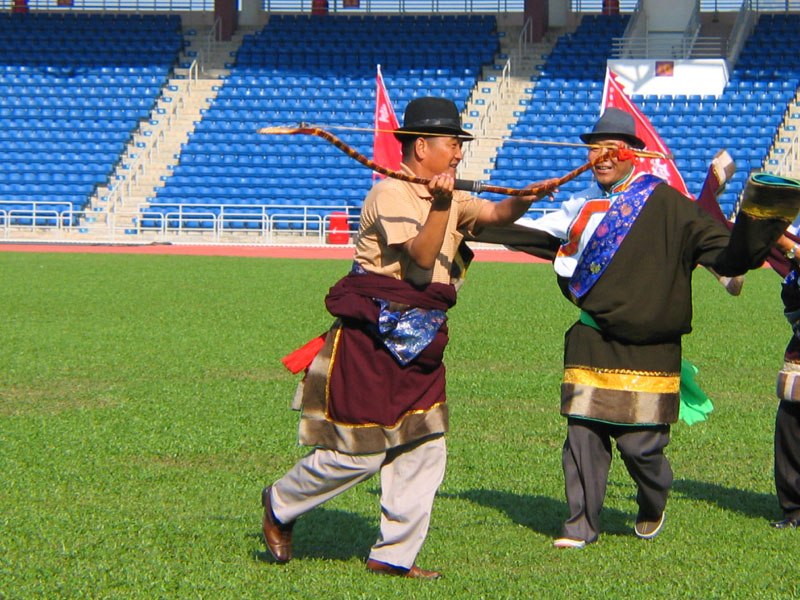 Tibetans celebrate every hit on the target with an exuberant display of traditional singing and dancing.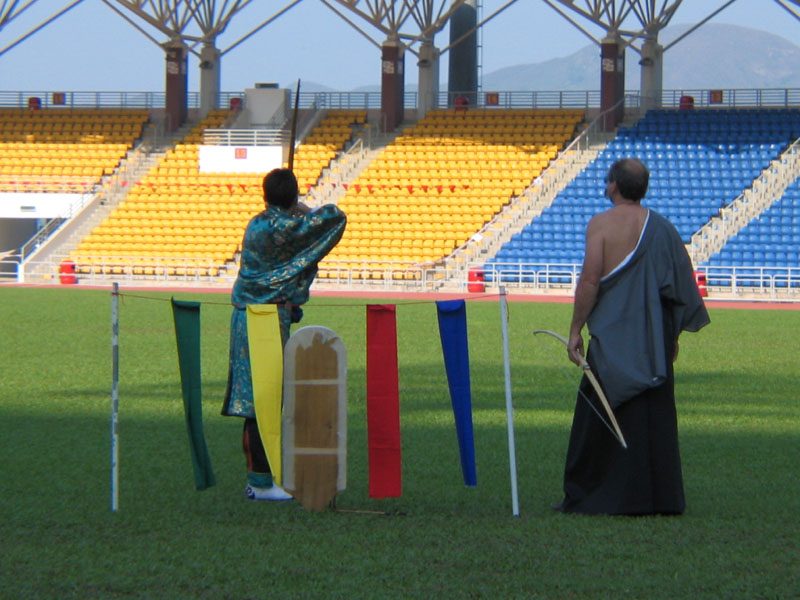 Tsewang Nidup demonstrated Bhutanese traditional archery. Jaap Koppedrayer decided to have a go, too.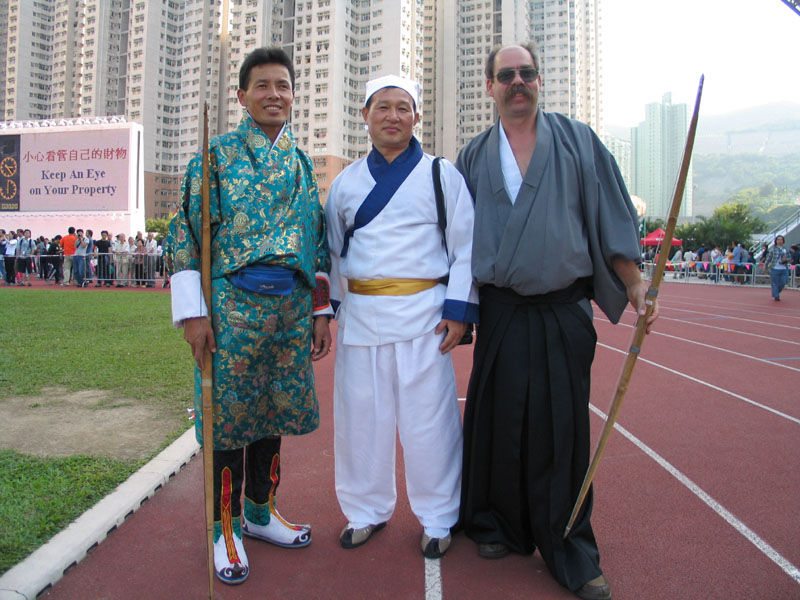 Comradeship: Tsewang Nidup, Col. Kim Ki-hoon and Jaap Koppedrayer.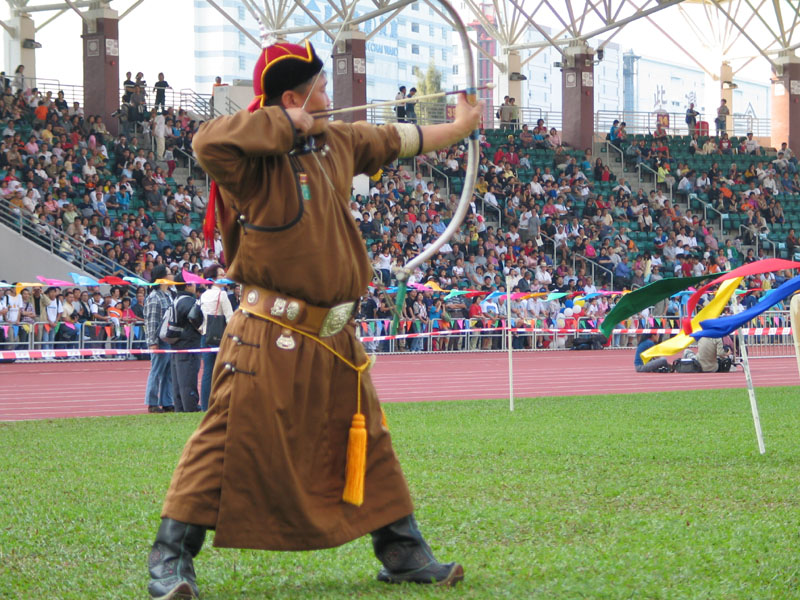 Battumur demonstrated Mongolian archery as performed at the annual Nadam Festival. Now you can see how packed the spectator stands were. The crowd roared with approval each time the Mongolians hit a tiny target over 70 metres away.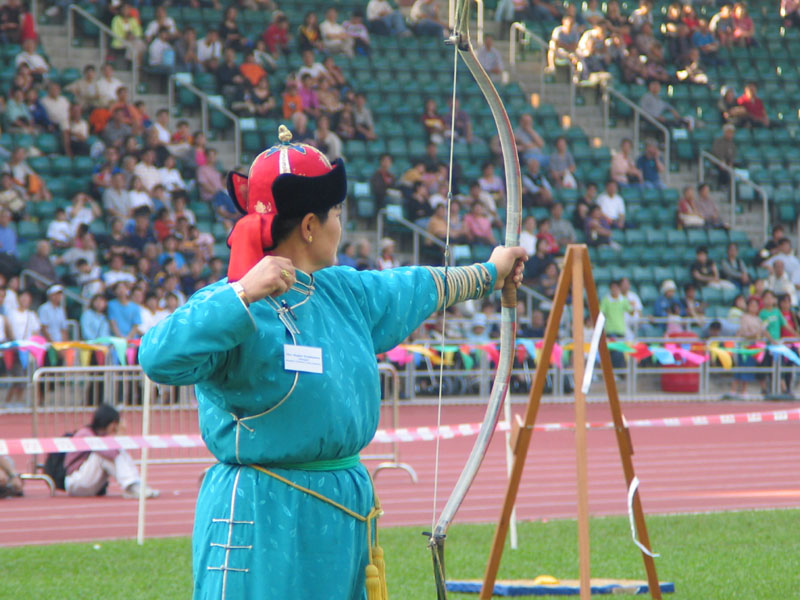 Satisfaction at a fine shot: Byambasuren.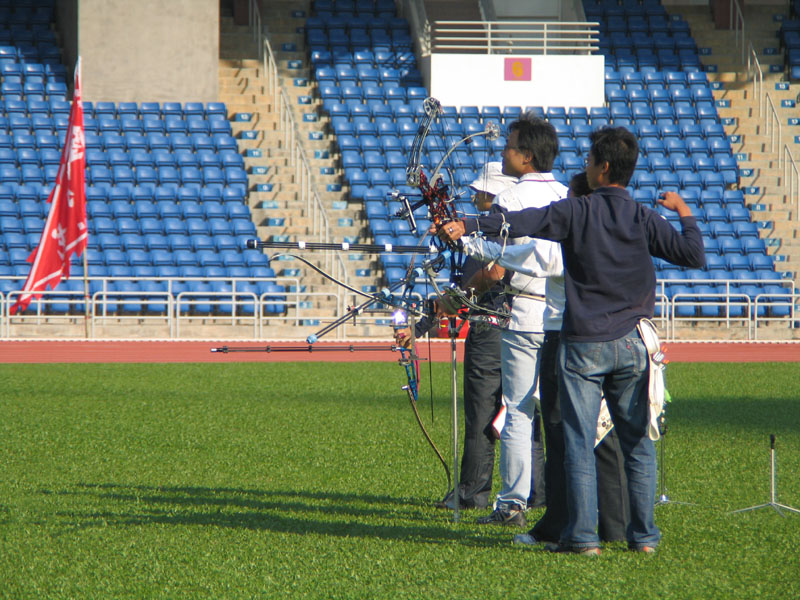 We welcomed Hong Kong's modern archers to strut their stuff. The Carnival did more than promote interest in traditional archery: many people wanted to know where they could learn the modern, competitive sport.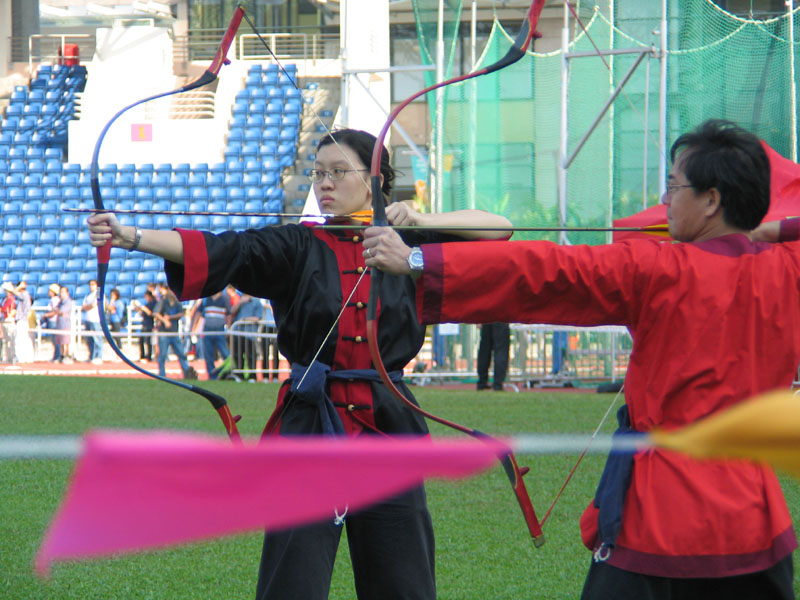 Students of Chinese traditional archery from Hong Kong, Anne Leung and Li Yuk-fi, demonstrate archery on foot
in the official style for the Qing Dynasty military examination.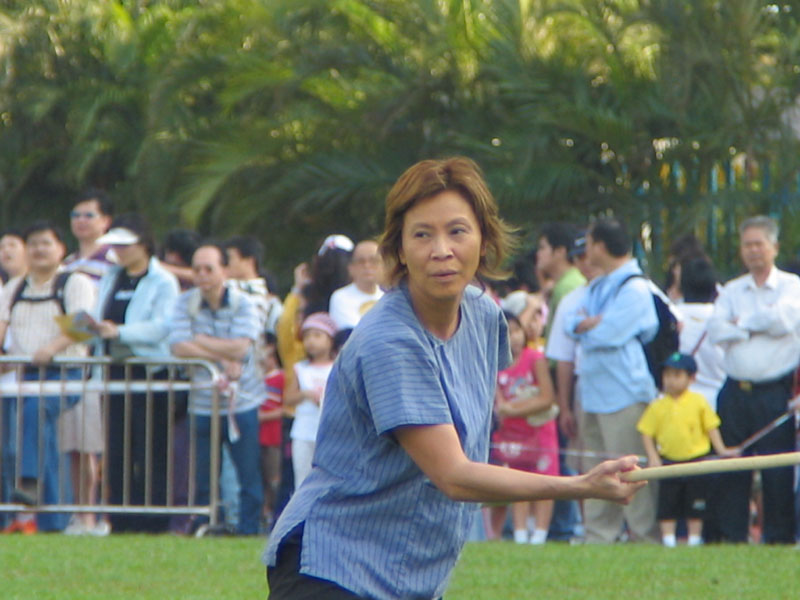 To display Chinese military archery, we put on a battle re-enactment. Villagers fought off marauding pirates using their farming tools until a Qing army crossbow brigade and cavalry contingent arrived. The pirates got more than they had bargained for in their encounter with this feisty villager (Anne Selby).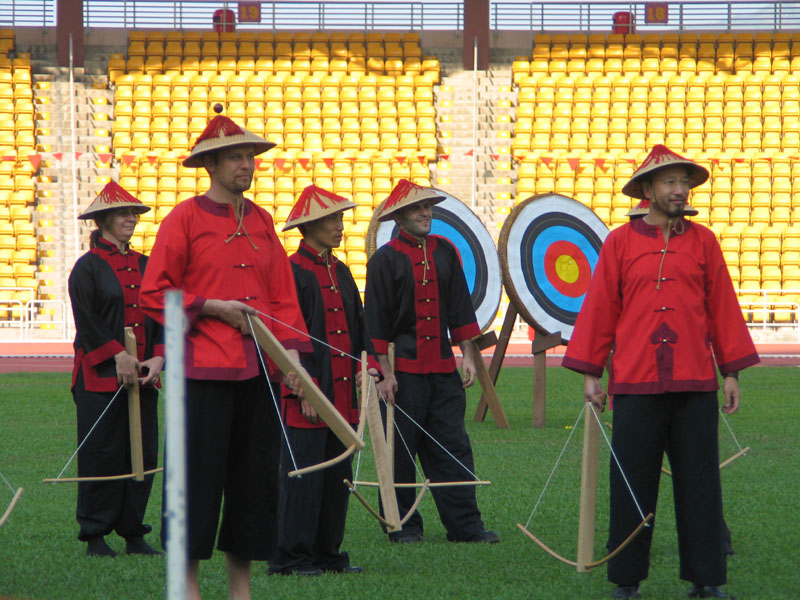 The Qing infantry (off duty). The Hong Kong Theatre kindly lent costumes for the re-enactment.
Kirsty Hamilton, Nick Rodgers (Australia), Fung King-on (Hong Kong, who made the 'crossbows'), Emin Vardanyan (Russia) and Steve Chan (Hong Kong).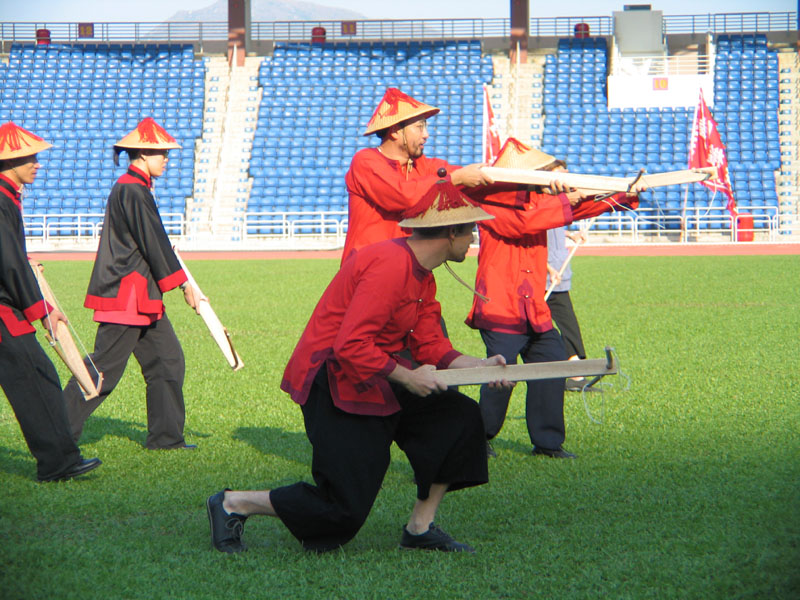 The Qing army in formation, setting off a deadly fusillade against the pirates.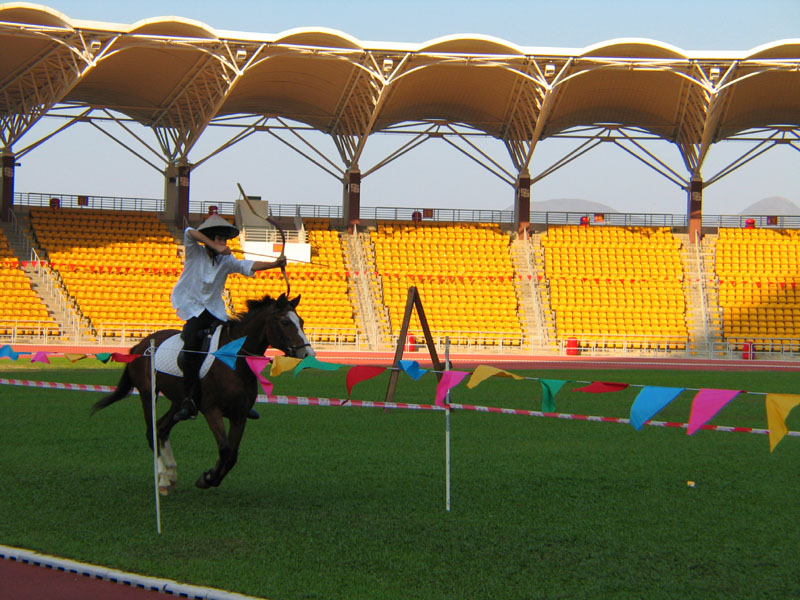 The Qing cavalry charges to the rescue! (Tim Selby)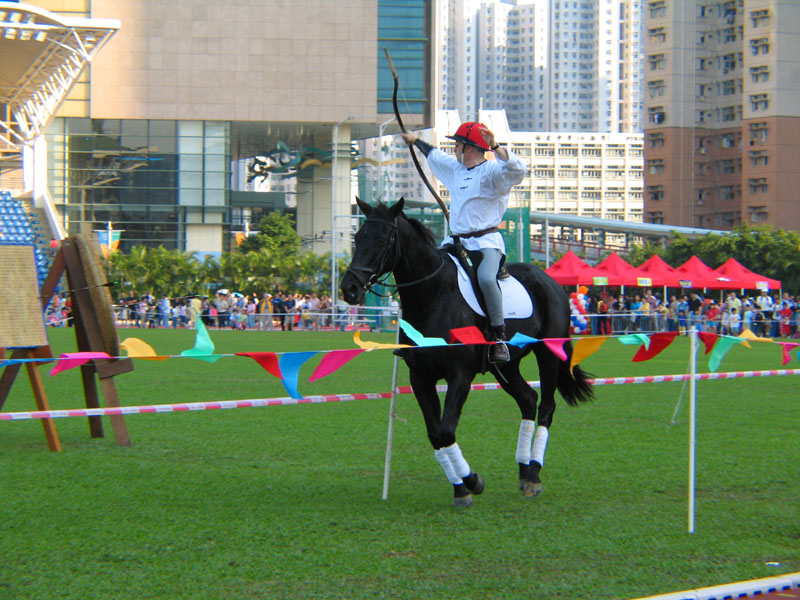 Chinese Qing Military Examination style horseback archery.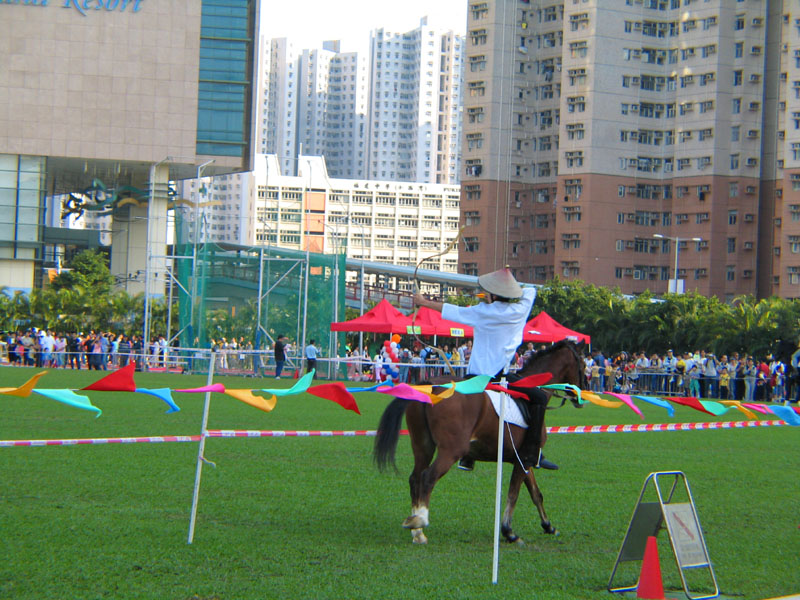 Military style Chinese archery - the back shot. (Tim Selby)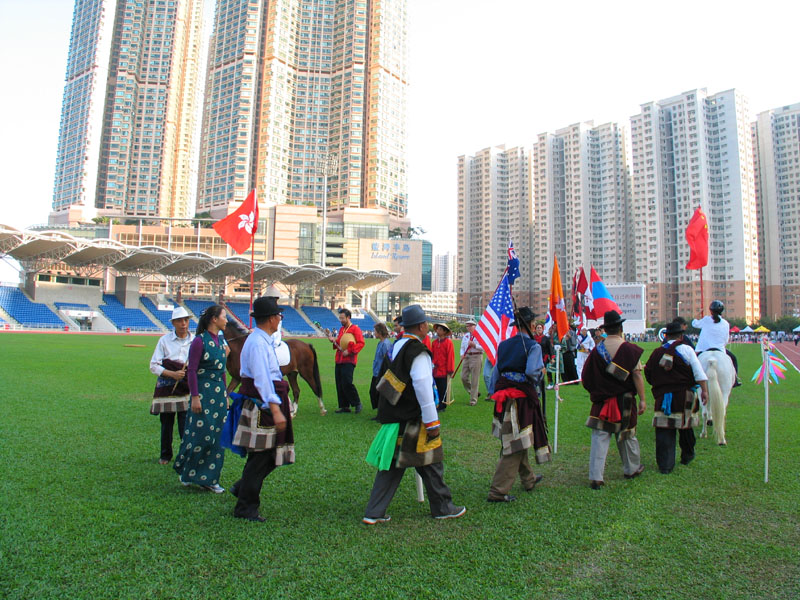 The Closing Parade.
These are just the preliminary photographs available now. As more come in, I'll put them up (perhaps streaming video as well.)
What for the future? I think that many people (participants as well as spectators) hope to see this sort of event repeated. Some suggested making every two years (to avoid wearing us all out.) There was a general feeling that this Festival should move to other countries in Asia.
In retrospect, one important point to improve is visibility for the spectators. Archery is not really a spectator sport - especially when watched from a safe distance. Other locations in Hong Kong have monster TV screens where we could give spectators a close-up view of the details.
In contrast to traditional archery meets in the UK (SAA and SPTA) or the US (Denton Hill and Fort Dodge), in the Far East, it is not easy to have large-scale public participation. There are very few experienced archers about, and most of those have never touched traditional equipment. But in the future, an ideal should be to allow the public much greater participation as archers.
Please feed in your views on http://www.atarn.net .
---
Mr W. F. Lai, Conservator at the Hong Kong Museum of History, has taken some photographs, including X-ray photographs, of a Warring States period crossbow on display in the Museum of Coastal Defence.


Warring States Crossbow : side view.


Warring States Crossbow : oblique view.

Warring States Crossbow : top X-ray view.
---
---