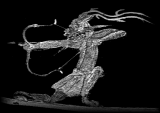 ATARN Chinese Traditional Archery Training, Summer 2003
Beginners' Level
Training consists of ten classes on Sundays, May 18, 25, June 1, 8, 15, 22, 29, July 6, 13 and 20.
Training starts at 1030 and lasts until 1200 at IVE (Morrison Hill)
6 Oi Kwan Road, Wan Chai, Hong Kong.
There will be a charge of HK$350 for consumables. Tuition is free.
Students are expected to assist with setting-up the training area and then putting equipment away.
Students should wear comfortable sporting wear and sports shoes with non-marking, non-slip rubber soles.
All archery equipment required will be lent to students, but students will not be permitted to take equipment home on loan. Students may buy an archerís thumb ring if they wish. They will be provided with an elastic practice band.
Important notice

Traditional archery can be a dangerous sport. Students will be required to sign a statement at the end of the first dayís instruction that they understand the dangers of the sport, accept personal responsibility for their actions, and accept that there will be no liability on the part of the instructor for any injury they may suffer or inflict on others.
Day 1 : 18 May 2003 (Bring a notebook and pen)
Orientation

Qigong exercise

History

Nature and purpose

Stance, breathing, opening movements, closing movements

Introduction to the bow and arrow

Materials

Design

Naming of parts

Stringing the bow

Safety

Military drill

Initial archery practice

Concepts: interrelationship of ritual archery, military archery, horseback archery

Stance

Nocking the arrow

Practice with the elastic band

Discussion
Day 2: 25 May 2003
Qigong exercise

Revision

Intervening movements

archery practice

stringing the bow

revision of nocking the arrow

draw-hand position, bow-hand position

draw-and-release at the floor

Military drill

Discussion
Day 3 : 1 June 2003 (Location to be confirmed)
Qigong exercise

Archery practice

stringing the bow

revision of nocking the arrow, draw-hand position, bow-hand position, draw-and-release at the floor

preparing for full draw with an elastic band

full draw with the bow

Military drill

Spacing and co-ordination

Target work with elastic bands

Discussion

---