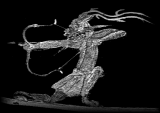 Asian Traditional Archery Research Network (ATARN)
Photographs © Stephen Selby, Csaba Grozer, Zoran Pavlović, Fox Wong, 2004.
A1, Cloudridge,
30, Plunkett's Road,
The Peak, Hong Kong.
Fax: (+852) 2808-2887
email: srselby@atarn.org
June 2004
Dear All,
I hope that you enjoy this newsletter. It's particularly enjoyable for me because I have received contributions from a few ATARN friends around the World, which will make the letter much more lively and varied that usual!
But first, let me thank all the Members who wrote to support ATARN at the Stockholm Challenge 2004. Although we did not win the top prize, it was stupendous that we were short listed. The top prize-winners were truly deserving (Egypt and Singapore), ATARN received a lot of attention and praise from judges and other competitors.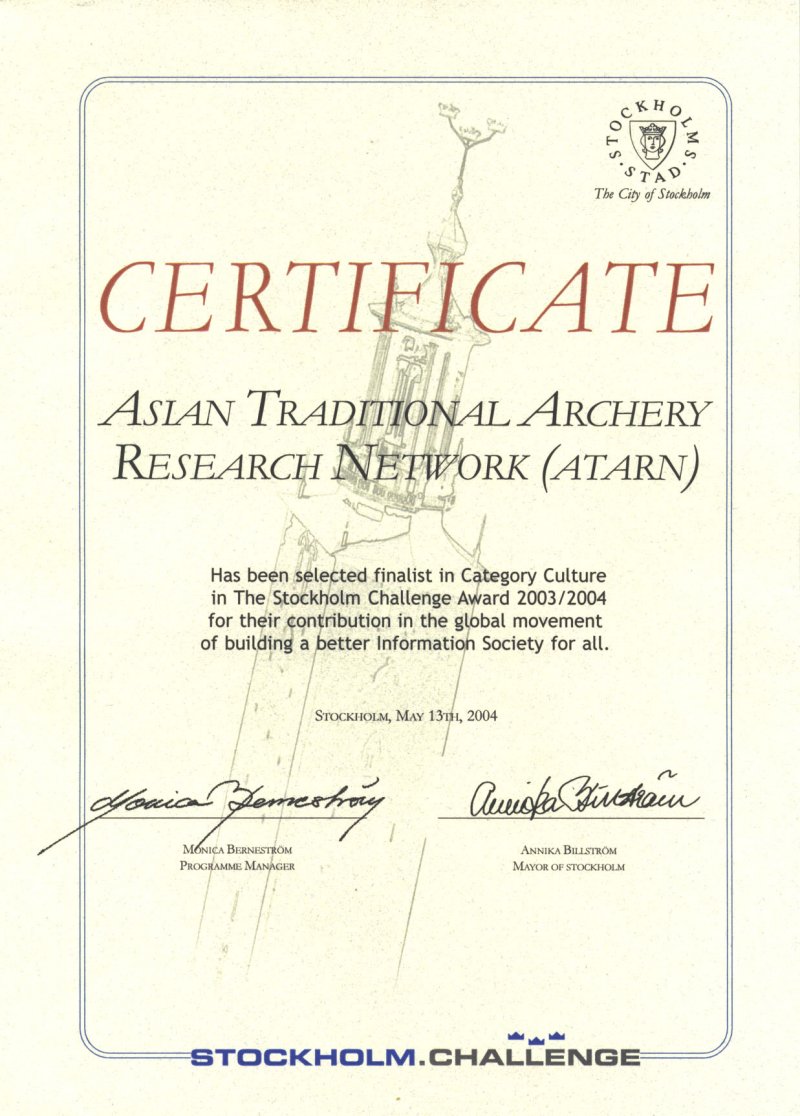 ---
I am fortunate to have a number of travel opportunities coming up. From 13-16 June I shall be in Korea, and I have received a kind invitation from Mr Kim Young-Sup of the Chung Hon Dang, Korean Traditional Equestrian Martial Arts and Gyuk-Gu Association, to visit him in Sokcho. Hong Kong ATARN Member, Fox Wong, has just paid a visit and his account forms part of this letter.
On 19-20 June here in Hong Kong, we shall be offering our two-day 'taster course' on Chinese traditional horseback archery. You can read more about it here.
Then on 1-6 July I have been invited by the People's Government of the Yili Chapchal Xibe Minority Autonomous County to conduct a two-day training course. ATARN has sponsored 15,000 yuan to buy bows and arrows for the course, and to support sustained development of traditional archery among the Xibe minority (who are already formidable FITA-style archers.) We hope to train 20 young archers so that they can perform at a ceremony to mark the 50th anniversary of the founding of the Autonomous Countyon 31 August this year.
---
Csaba Grózer writes to say that recently, he has been concentrating on making horn bows (as well as the glass fibre bows for which he is famous.)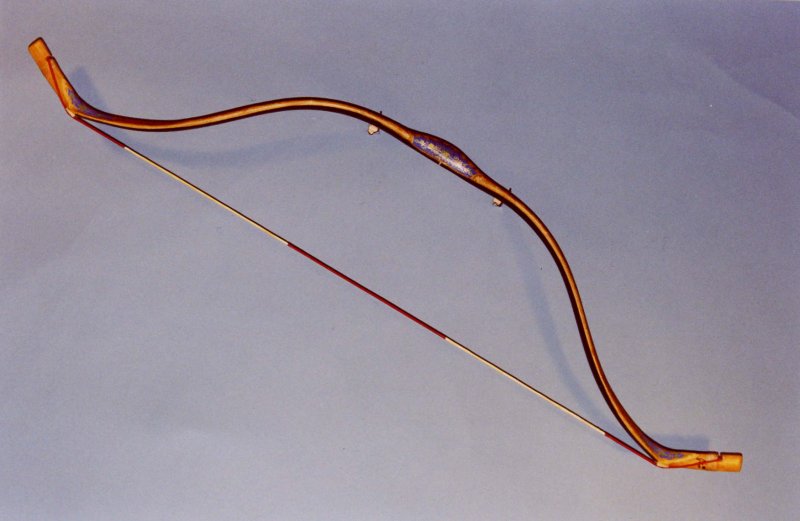 This is a Turkish bow made with traditional horn, sinew and leather covering.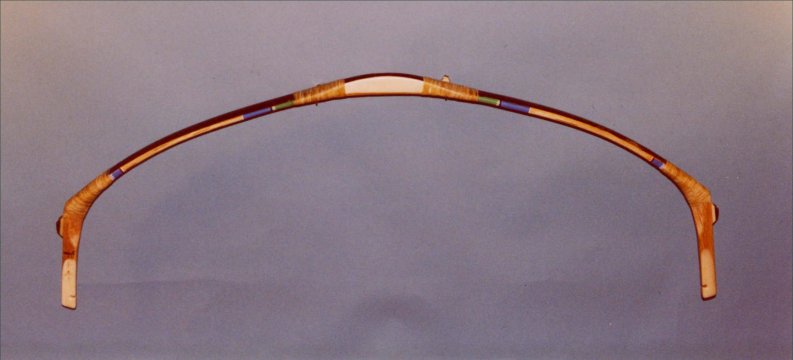 This bow is in the Mongol Style, and closely resembles the bows now used by the Tibetans in Qinghai.
Csaba says, "Turkish has better physical features. It is faster, and thinner. With the Mongolian we had to use more material (horn, leather, wood) to reach the same draw weight." He sells these bows for between €1050-€1250.
---
From Serbia, Zoran Pavlović writes: "I want to to send to you several pictures for the ATARN archive.
"I am really addicted to archery, specially to horn bows because I am from Serbia, a country where horn bows have been prevalent in medieval times. I do my research on the presence of the composite bow in medieval Serbia and it's very hard work because I have only the frescoes with beautiful representations of Serbian Warrior Saints with nice composite bows from numerous Serbian medieval monasteries. I need to ponder and include archery of other peoples who used the composite bow.
"What I am interested in is Byzantine archery. Serbs took great part of their military technology from the Byzantines; but I know very little about their archery. (I don't have many pictures of composite bows used in Byzantium.) Serbian medieval mural painting was under strong religious influence and early representations of composite bows are very stylized. However, if you see them, you can perceive the different influences, from early Roman, Avar to Magyar style bows. Later on these bow styles evolved into Turkish bows. (That was at the time when the Ottoman Turks occupied Serbian lands.)
"What grabbed my attention were the so called 'crab-leg' bows. Do you know something more about the crab-leg bows, and can you help me and give me some opinions?
"I have to tell you that a great proportion of Serbian monasteries are situated in the old Serbian land. Unfortunately, most of the beautiful monasteries from XII-XIV century where you could see Holy warriors with horn bows, were destroyed this March by Albanian extremists who want to eradicate any relic of the presence of Serbs. Kosovo was one of Serbian lands in the Middle Ages. Today it's a territory under UN protection; but medieval Serbian monasteries there are under the jurisdiction of the Serbian Orthodox Church).
"I have a lot of pictures; but I have selected several pictures of Serbian Warrior Saints (Holy warriors) and I am sending them to you for the picture archive of ATARN (I am so grateful to Atarn because of the great information on composite bows)"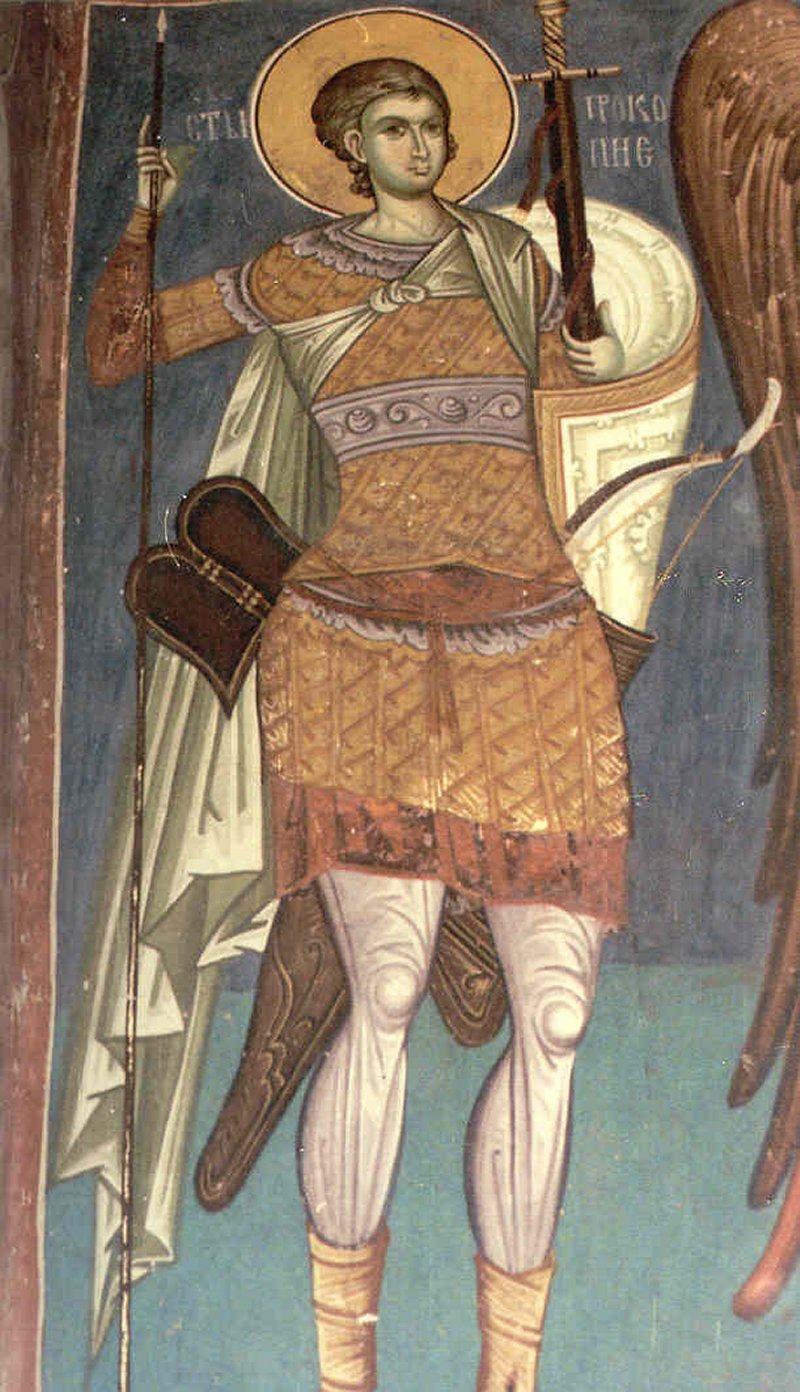 From Serbian Patriarchy in Serbia, XIV century. Warrior Saint called St. Prokopije
(I think it's a typical Avar type bow, beautifully represented on the painting)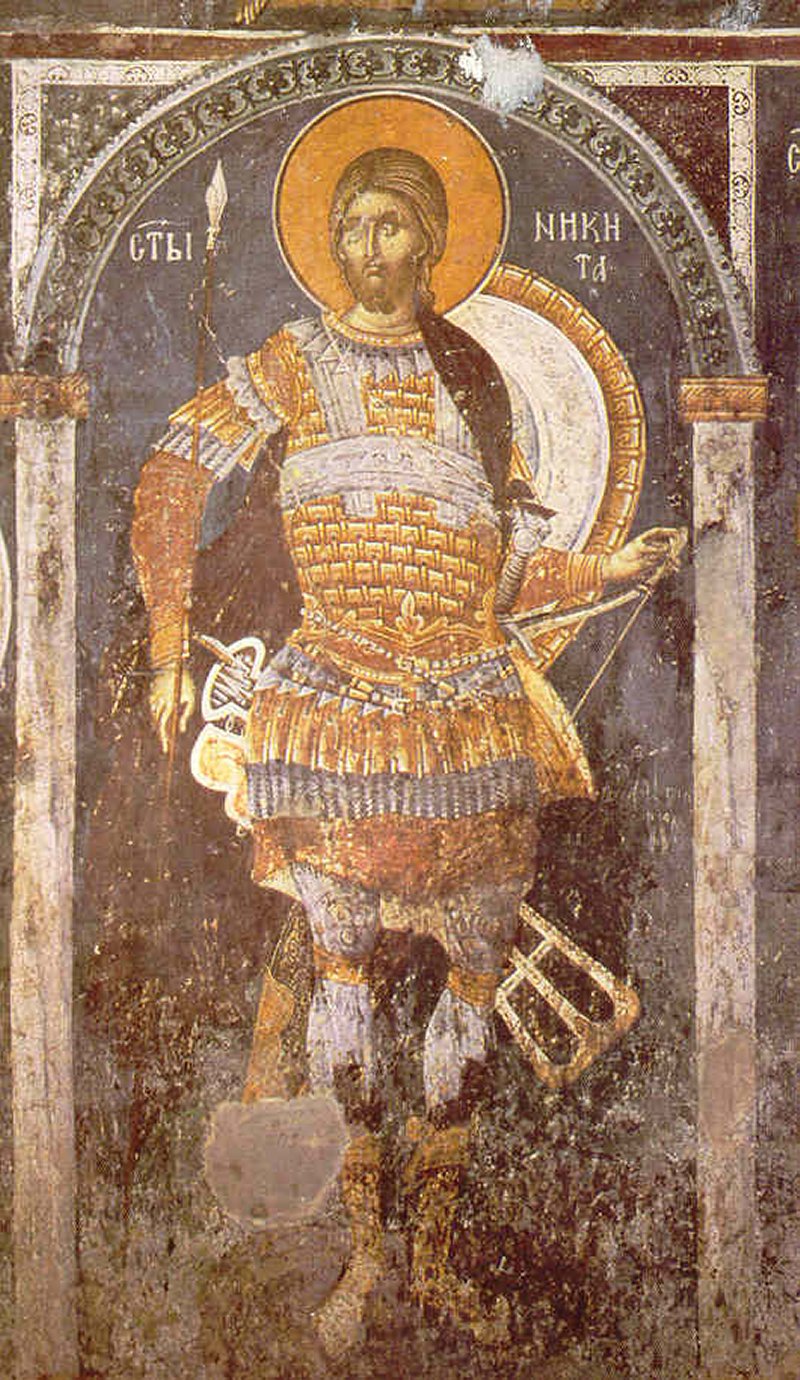 Serbian Warrior saint, St. Nikita. XIV century. Monastery at Čučale near Skopje, Macedonia.
Looks like a version, or the artist's interpretation, of the Magyar bow. Even the quiver is very similar)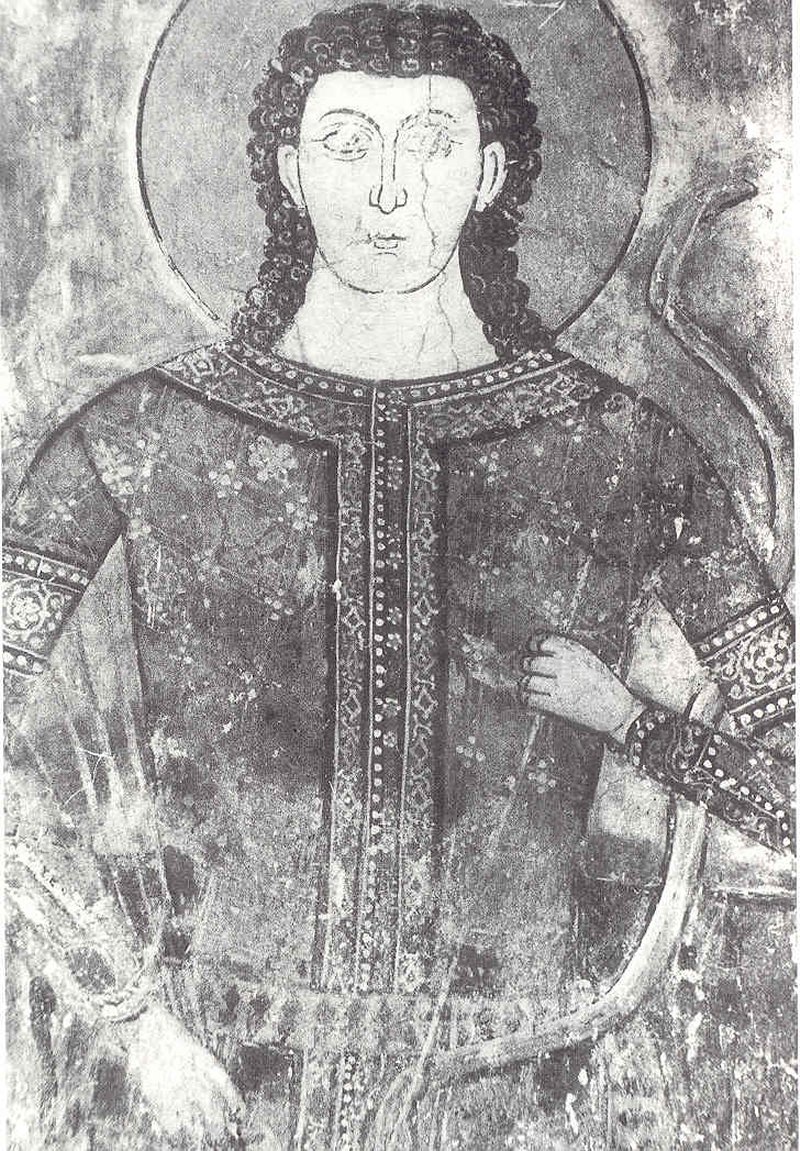 Warrior saint Dejan, Veluće, Serbia. End of XIV century.
True representation of the crab-leg bow, I think it's purest shape,
but you can see the artist's mistake: the string is on the wrong side of the siyah.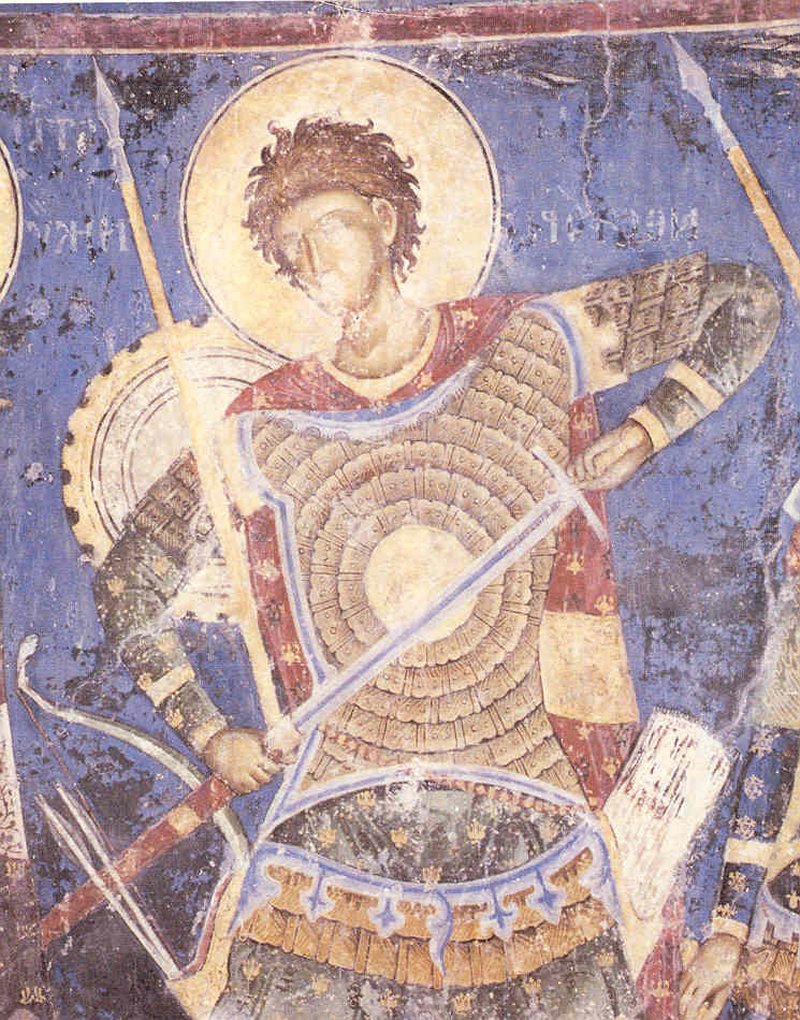 Warrior Saint, Monastery of Manasija, Serbia. Beginning of the XV century.
Looks like an altered crab-leg bow, with strong stylization but it could be a Turkish infantry bow style,

"Medieval artists respected warriors, and every weapon that you can see on every fresco is realtically depicted. You may recognize German oval shields and German swords which very popular in Serbia in XIV century, as well as helmets etc."
---
Fox Wong (Hong Kong) writes:
I made a trip to Korea in May 2004 and I have a few things to share.

Nowadays, Korean traditional archery more or less boils down to a sporting activity which is organized under Jeong(亭). The shooting distance is 145m and a simple hit scores one point. Jeong are a national phenomenon and are scattered all over the country. As such, I visited five different Jeongs and actually shot at two of them!

The first one was Horim (虎林) Jeong and it located in Kyongju City. I actually shot there too. Then I visited the historical Hwanghak (黄鹤) , Sangam (上岩 )& actually shot there, Surak (水洛 ) and Hwarang (花郎)inside the Korean Military Academy KMA ) at Seoul. Each has their respective surrounding environment.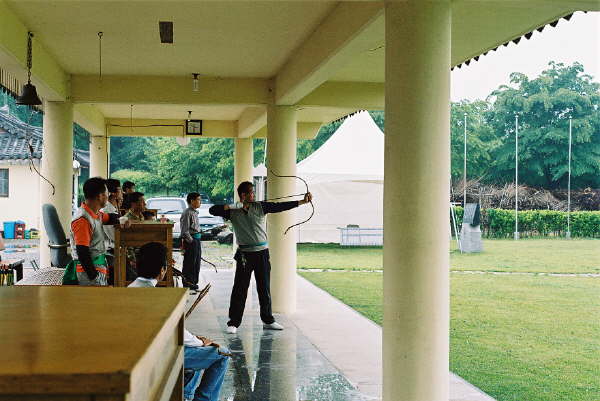 Horim (虎林) Jeong
Functionally, a Jeong includes a shooting platform (with roof), target, storage space, windsock and a big mirror for archers to check their own form. Additional facilities such as club house, meeting room and an indoor practicing range etc.

Archers are courteous and enjoy a rather free atmosphere. Serious members can practise all day and one can just come and go as one pleases. Anyone who is interested in Jeong can learn from the website: http://www.hwarang.org/Archery1.html.

After visiting the Jeong, I watched a performance at the Seoul Race Course by Korean Traditional Equestrian Martial Arts & Gyuk Gu Association KTEMAGGA (www.chunghondang.com).

Performance at Seoul Racecourse
The first round consisted of different type of horseback martial arts, including horseback archery. The whole performance was video filmed (photo please see November 2003 newsletter) and it was fantastic. The speed was striking (especially as we were leaning at the rail side) and the cooperation between horses and riders were just perfect.

The most impressive part was three horseback archers chasing the "fur" ball at full gallop, including the horse dragging the ball along! The speed, the control of the horses and the grasp of the short moment before they reached the end line, all these stretched my nerves to the limit. Then they had a further demonstration of Gyuk Gu (Korean Polo) (photo 9), which was as good as the first from the horsemanship aspect.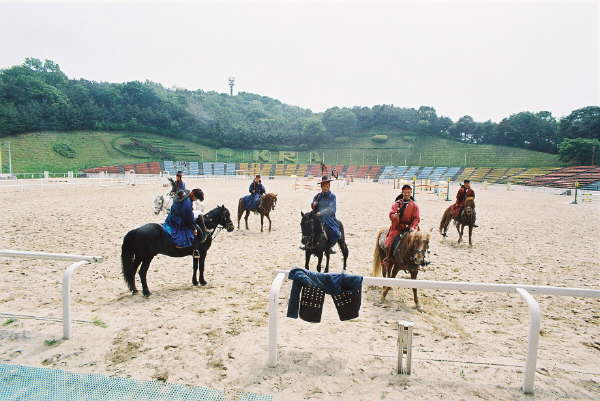 Gyuk Gu (Korean Polo)
Having enjoyed the performance, we visited the KTEMAGGA base at Sokcho (photo 10), on the East coast near Soraek Mountain. The site is under construction and will be open in late June 2004. I strongly recommend riders or archers to visit them if you are going to Korea. First, it is definitely world class equestrian art and second, it is easy to reach their site.

After the archery and riding, we went to visit two museums, the Museum of the KMA (photo 11) and the other Yeongjip Bow (photo 12) and Archery museum at Paju near the DMZ. The former is the Academy Museum with good collections of crossbows, bows, arrows etc. The latter is a private museum owned by a living cultural treasure Mr Yeong-Gi Yu. It has a very good collection of archery items. You may go to here to see more about the Yeongjip Museum.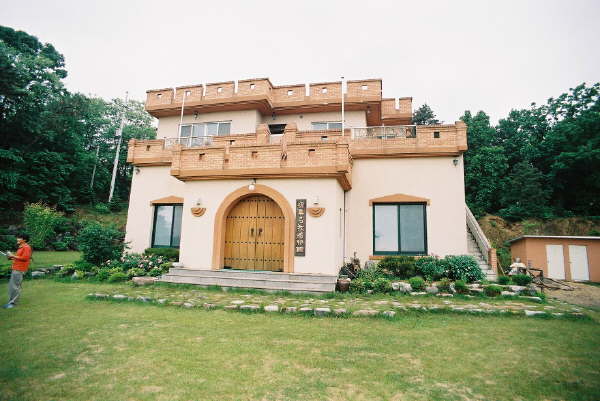 Yeongjip Bow and Archery museum at Paju

When I was in Korea, such an unbroken archery tradition really touched me. On the other hand, I am very much ignorant about the situation in China. It would be nice if I could make a similar trip and see what can be discovered!

Koreans are nice and I would like to express my thanks to Col KIM Ki Hoon, tom Duvernay's family, members of Horim, Hwanghak, Sangam and Surak Jeongs, Mr KIM Yong Sup of KTEMAGGA and his fellows, Mr Liu of Yeongjip Musuem and finally my family members. Without them, the trip could not have been so successful.
---
Here is a puzzle.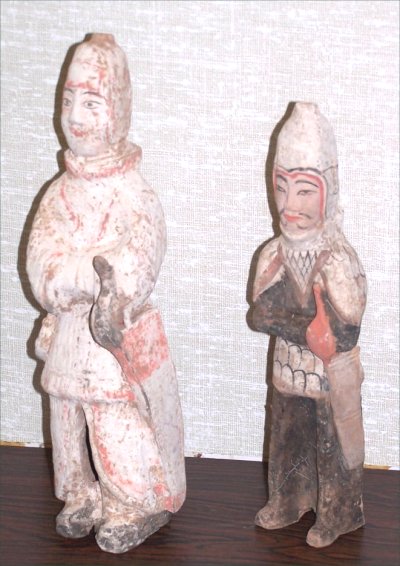 Two Northern Wei Archer Figures
I wrote about one of these figures in a previous newsletter. The Northern Wei Period lasted from 386CE – 534CE. The figure on the left dates from early in the period, while the one on the right is from the end of the period. As I remarked in March, the archer has a broad limbed bow like the Khotan bow. The figure on the right has an even more obvious Khotan style bow.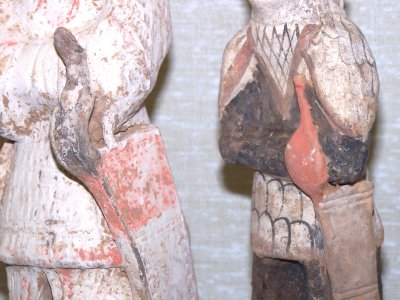 Bows and holster sof the Northern Wei figures
So the question is: why does the bow holster seem to be completely incorrect for the bow?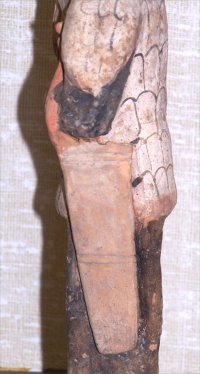 Side view of late N. Wei bow holster
We are being asked to believe that the bow went into the holster like this: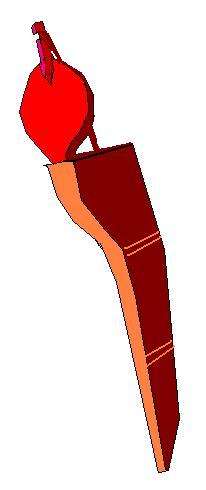 If we had never seen an actual example of the Khotan bows, we might argue that this bow had one broad top limb and one narrow bottom limb. Well, we have seen it and it doesn't. Technically, there would have been no problem for the artist to model a bow-holster for the Khotan bow that we know, so that can't be the problem.
Was it 'artistic convention'? Like the frescoes in Zoran's letter above, the Chinese were not great takers of liberties with these details. Is the item perhaps not supposed to represent a bow at all? Then why is there an obvious string nock in the siyah and a quiver of arrows on the archer's right side?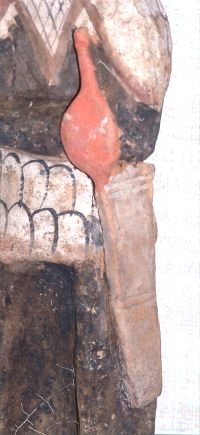 Note the string nock in the siyah
I hope to get to know the Khotan bow better. Csaba Grozer has promised to make a copy of one for me. In the meantime, I'm looking forward to your discussion of this puzzle on ATARNet.
---