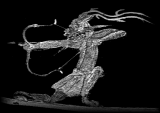 Asian Traditional Archery Carnival. 26 October 2003
Photo Album
All photos are © Hong Kong SAR Government 2003. All rights reserved

The Tibetan team practicing


Qi Guihua takes aim


Tsewang Nidup checking his arrows


Col. Kim Ki-hoon at full draw


Battumur practicing


Shagdar Byambasuren's perfect Mongolian technique


Stephen on a practice run


Guests: Xu Kaicai, Prof. Yang Hong, Yi Degang, Bert Grayson, Molly O'Donnell, Ann O'Donnell
Yang Fuxi, Jaap Koppedrayer


Jaap performs a ceremonial shot into the air to kick off the event


Lion Dance by Luk Chi Fu Martial Arts Association


Candy floss stall


Joe Lam, Bede Dwyer and Kay Koppedrayer manning
(and womanning) the ATARN stall


The children's games stalls were soon crowded


Free pony rides supported by Lo Wu Saddle Club


Hong Kong archers helping with kids' archery


Trying crossbow skills


Bhutanese traditional dancing


Every child who attended got a free bow and arrows


Many couldn't be persuaded to leave when the event was over!

Our thanks to -

Ms Barbara Park
Ms Kirsty Hamilton
Mr Anthony Hardy
Mr George Magnus

Museum of Coastal Defence
Hong Kong First Bus
Hong Kong Jockey Club
Lo Wu Saddle Club

Photos published with permission of the HKSAR Government.
All rights reserved.


---
Page up-dated on: 19 November, 2003