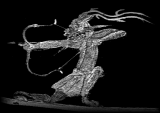 ATARNet Frequently-Asked Questions
Do I have to register to use the ATARNet Discussion Forum now? I didn't before.
No, the new ATARNet Forum software does not require you to register. But you must also ensure that your browser has cookies enabled, otherwise you will not be able to post messages on ATARNet.
There is an optional registration form on ATARNet; but not completing it will not affect your freedom to use the Discussion Forum.
What will ATARN do with my personal information I give in the voluntary registration?
Your name will appear publicly when you use the Forum. Your email address will be used by ATARN to contact you with up-dated information. It will not be released to third parties. (See the data privacy statement.)
Do I have to pay to use the ATARNet Forum?
No. It is free.
Why can't I upload files over 200KB?
To ensure that uploads don't take up excessive capacity on ATARN, we have to restrict up-loads.
Why can't I up-load my bitmap images or .wav files?
These files are very large. ATARNet accepts .gif, .jpg and .zip compressed file formats.
What shall I do if I find offensive postings on ATARNet?
On the window where you can read the message, you can report to ATARN using the "Report problem posting" link at the bottom.
---
Last up-dated October 30, 2001